"New Year, New Me" was the motto for seven (7) NFL teams in 2020. We're already in May and new uniforms are being dropped across the league for teams with hopes of having success or maintaining that success as we move into a new decade of football. I guess no one really knows why each of these teams changed their uniforms. But I'm not complaining. Maybe these teams think a new uniform will somehow make COVID-19 go away? Who knows, but anyway, some of these uniforms are really good, really not-so-good, and very similar to what teams already had. With sports not happening anytime soon for a lot of leagues and the fiasco the virus has created in our country, this might be one of the more exciting things us Takers are able to comment on. Gotta love the 20s in the 21st century. Here are my takes on these newly released uniforms.
7. Los Angeles Rams
To me, the helmet isn't an issue. It's all in the uniforms. From the different shades to the way the numbers and name tags look 3-D or whatever you call it. All the Rams had to do was go back to their old LA uniforms before they left for St. Louis in '94. That's it. They would be near the top of this list if they would have kept it simple and not gone with this typical Cali, smoothie and fitness center, football is too mean, kind of look. They have one of the classiest brands in all of sports. It's so freaking iconic. Not to mention they look really familiar to another team close by. Oh! That's right! It's the team that is sharing a stadium with them, the Los Angeles Chargers (you'll see theirs in a bit). But Just look at the LA Rams new logo.
The Rams have struggled with their uniforms ever since their return to LA in 2017. They completely ditched their old St. Louis uniforms which makes sense for a team in a different city. At home, we saw the royal blue and gold. On the road, they wore those navy and blue throwback looking uniforms. It was just a mess and really inconsistent for a team trying to bring back a fanbase in their hometown. They could have gone a million different ways and they all would have been better than this. Their best bet would have been to go back to their yellow and royal and called it a day.
Granted, uniforms due tend to look better on the field, under the lights, and in action. We'll see how these changes pay off for the Rams in 2020. For now, I'm not a fan.
6. Atlanta Falcons
The Falcons have had the same uniforms and look since Mike Vick was making defenders look silly about 15 years ago. So, a change in image was definitely due. Unfortunately, the change wasn't as encapsulating as one might expect coming from an organization who has flirted with being one of the top teams in the league.
Red, black, and white are pretty easy colors to go off of when trying to recreate an image. Somehow, the Falcons blew that 28-3 lead on the rest of the colors and ended up with this. Where have we seen similar schematics regarding uniforms?
That's right! The prison football team in the movie "The Longest Yard." Maybe the Falcons got their uniforms from Caretaker (Chris Rock)? Who knows, but what I can get behind is if the Falcons start playing the Mean Machine in 2020, then they're not blowing no 28-3 lead unless Matt Ryan decides to point shave.
Now, I don't necessarily hate the uniforms all together. I kind of like the ATL across the chest and the font/style of the numbers. I don't mind the old school look as well. This new look is something that came from someone like me with no creative ability. They could definitely do better. Hopefully, they will in the future.
5. New England Patriots
It makes sense for the Patriots to want to get a new look. It's not like their old work was bad in anyway, it was just time. They had their previous look for about 20 or so years, about the time Belichick and Brady arrived.
And what a coincidence? Brady leaves and the Patriots rebrand. I think it's a great idea. Much needed for a team that lost its 6x Super Bowl winning QB and a good couple of handfuls of key pieces on the field. It'll be interesting to see how well this team does this next year with so many counting them out even with Belichick as the head coach.
Alright, so these uniforms are pretty much their color rush uniforms. They're a very classic Patriots look. I personally don't like the way the shoulders are striped. Maybe they will look better on the field, but for now, not a huge fan.
I 100% agree with Mr. Blackburn here. If the Patriots used a combination of these uniforms with the white helmets, they would have skyrocketed up to either #1 or #2 on this list. These are not only classic and clean, they're iconic and would have been a great way for the organization to be like "hey, we'll miss everyone who left, especially Tom, but it's business as usual come September.
4. Indianapolis Colts
The Colts have iconic uniforms and are being ranked this low just because they don't necessarily count. Really, they could probably stay off this list but their changes should be noted. All they did was change a few things on their uniforms with the numbers and markings. They still look great. Just by looking at the Colts uniforms, you probably aren't able to see what has changed unless you're looking for it.
I think the picture of the state of Indiana mixed with the horseshoe shaped like a "C" is a really good look for their secondary logo. And their new wordmark still maintains that sort of rustic, old-school feel you get with one of the NFL's more traditional teams in terms of "flashiness."
Overall, these minor touches are nothing big but they do help improve an already stellar style.
3. Tampa Bay Buccaneers
Tom Brady's departing team got new uniforms. So, it's only fitting that his new team gets some new threads, right? The Bucs had one of the worst uniforms ever. They weren't stylish or even remotely good for a team that really hasn't done anything in about 17 years. So, they really couldn't go wrong with changing it up, and they impressed, to say the least.
Just look how bad these are. Don't get me wrong, I'm not taking shots at the helmets. Those are not as atrocious as these uniforms. I would show you all the other uniforms the Bucs had been wearing but I would like for my audience to keep reading my content.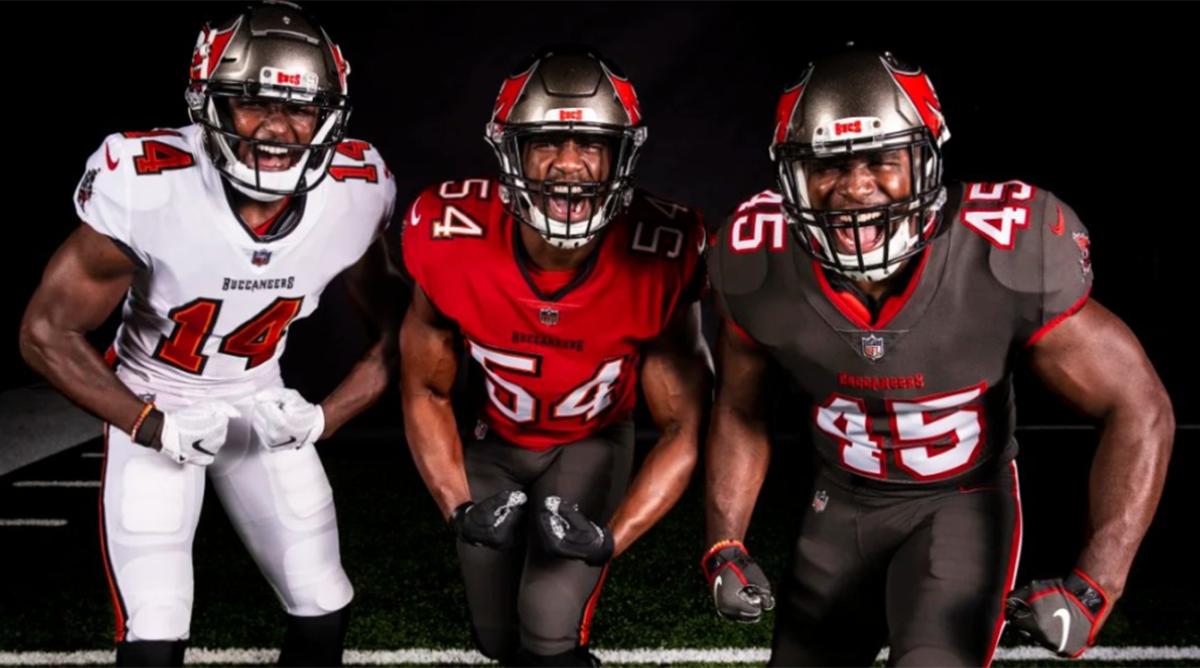 These uniforms are perfect the new and improved Bucs. They're simple, classic, and not complete eye sores. They kind of have a mix of the early 2000s Bucs uniforms with a twist of modernity. Now, if the Bucs would have gone with the old creamsicle, I probably would have bought some Bucs merch just because of how iconic those colors are. And the profits that are going to come with it in about 20 or so years. I mean just look at these.
These new uniforms are going to look so sick under the lights come this fall. I'm pretty excited for what's to come in Tampa Bay if everything goes as planned. With the addition of the rebranding the Bucs have gone under, combined with their personnel changes, this organization is heading in the right direction in 2020.
2. Cleveland Browns
The Browns are another team who desperately needed to undergo a total uniform/rebranding change. I bought a Baker Mayfield jersey when he was first drafted by the Browns in 2018. It was one of those with the orange lettering. It's cool because, well it's Baker, but other than that, the uniform isn't the best thing on planet Earth.
See? Not very enticing. In fact, these jerseys probably rank closer to the bottom of all other NFL jerseys. Now, the Browns realized a change was needed. They're uniforms stunk, they were overhyped in 2019, and they are now on their 4th head coach in 3 years. New management, new image. And unlike some of these teams on this list, the Browns were smart and reverted back to old times, their classic look.
These are a really good mix of a retro Cleveland look with a touch of 21st century. Why the Browns went away from their classic look is beyond me. They should have never done it in the first place. But they did and now they're back. Of course, the Browns have kept their iconic orange and striped helmets. That should never leave, ever. But these new uniforms should be a kind of refresher for a team looking to forget 2019 and make some big moves and win some big games in 2020.
Los Angeles Chargers
I'm really excited for what's to come in Los Angeles. And it's not the Rams. The Chargers have a very young core of elite players who continue to slowly develop in one of the league's most potent defensive teams. They're offense isn't a slouch either. Anyway, here's what I think about their uniforms.
I absolutely love them. They are the perfect combination of old school with the number on the helmet and simple uniform look but the colors are bright and jump out at you. They're now the best uniforms in the NFL, in my opinion.
The Chargers are like many teams looking for a new image in 2020. With these uniforms, they are headed in the right direction. If you look good, you're more than likely going to play good. There is the kind of confidence in someone who looks good. They know they look good and they're going to steal your girl. That's how confident the Chargers are going to be in 2020. Can they back up that confidence? Hopefully. But for now, hide your girl. The Chargers' confidence is SOARING.