The first ever virtual NFL Draft was a success to say the least. According to multiple sources, the draft had over 55 million viewers over the three-day period making this draft the most ever watched. The fact the NFL pulled this off with virtually (no pun intended) zero hiccups, is incredible. I pretty much had myself convinced there was going to be some kind of technical issues that would really mess some picks up, but that didn't happen. I am thoroughly impressed. There has also been some talk of the NFL doing a draft like this again. A lot of teams, NFL officials, and fans seem to really like this. I don't care either way. I'm just glad we had it.
On Friday, I graded all the picks of the first round based on the needs of the team that drafted them and where I felt that particular individual should be drafted. I know, I hate grades and they are not in any way shape or form indicative of what that player can do. But it's fun to analyze and dive deep into some football especially when it is the only sport giving us something during this pandemic. Without grades, here are five teams who had the best draft and five teams who did not fair too well the last three days. Feel free to let me know what you think!
Winners:
Dallas Cowboys
Jerry Jones drafting from his $250 million yacht is a huge flex in itself. It must have magical powers or something. In casinos, they pump in some kind of gas that make people stay awake and engaged so they just gamble their life away. On Jerry's yacht, there has to be some kind of similar gas that is pumped in that actually makes him look like a drafting genius. On Wednesday, when it came out that he would be drafting by himself, I personally thought the Cowboys were toast. But the Jerry proved me wrong and had the best draft the Boys in Blue have had in a really long time. CeeDee Lamb was a fantastic pick. Him snatching his phone from his girlfriend went viral in minutes. Trevon Diggs was an absolute steal. Adding players left and right to help fill holes and create depth, Jerry was on his A game all three days of the draft. I was thoroughly impressed.
2. Baltimore Ravens
The Ravens are just flat out good at drafting. They don't need a yacht or a dog (see Patriots) or even the weird thing the Titans and his family had going on in the first round. They just know what they need and get the best player at the position, making it look so easy and us like simpletons. Patrick Queen was an obvious selection. But after that, they hit a streak of just fantastic pick after fantastic pick. J.K. Dobbins will be successful in that offense. Excellent job. I can't remember when the Ravens had a bad draft. Looking forward to these guys head to the Super Bowl.
3. Cleveland Browns
I couldn't find these two's respective war rooms for the draft. So this is the best I can do. The Browns, once again, have had a tremendous off season and capped it off with an even better draft. The question still remains, will the Browns live up to expectations next season? Pretty much everyone gave them a pass last season because of how bad the offensive line was. QB Baker Mayfield didn't have time to develop the offense and make the right decisions. After free agency acquisitions (OT Jack Conklin and TE Austin Hooper) and the draft (OT Jedrick Wills), he shouldn't have anymore excuses. Time to nut up or shut up. Defensively, the Browns made a splash with S Grant Delpit who has stardom potential as well as DT Jordan Elliot. GM Andrew Berry has orchestrated this tremendous off season for the Browns. Let's hope new HC Kevin Stefanski can put it all together and make things work in Cleveland.
4. Cincinnati Bengals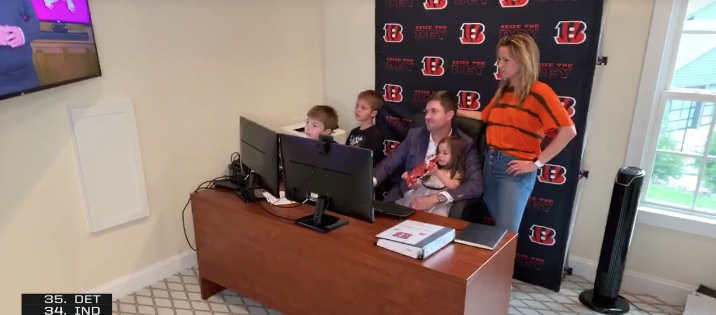 For the most part, the Bengals really could not go wrong with any of their picks. They had needs across the board and it was imperative they fill them with this draft after having a weary free agency. Starting with the guy who had one of the single greatest seasons of any collegiate QB in Joe Burrow with the first overall pick. In Round 2, they got their future franchise QB a big weapon in WR Tee Higgins. They also had a few good defensive picks in LB Logan Wilson and DE Khalid Kareem. Both have a ton of potential. Will the Bengals be better in 2020? Yeah I think so. How much better? That remains to be determined. If HC Zac Taylor can figure out what pieces need to go where to have a success, they will be fine.
5. Arizona Cardinals
This draft set up might be the second best "war room" behind Jerry Jones' yacht. This is pretty much the reason I have the Cardinals here. However, they did have a fantastic draft. LB Isaiah Simmons fell into their lap without them having to trade. Their second round pick went to Houston for arguably the best WR in all of football with DeAndre Hopkins. And their 3rd round pick went to a need, one that I thought would be taken in the later first round, OT Josh Jones. The rest of their picks were seen as guys who could come in and make the team that much better and add some depth. Kliff Kingsbury flexing on everyone is a huge boost of morale for Cardinals fans who desperately need something to be proud of in 2020.
Just missed out: Denver, Kansas City, Indianapolis
Losers:
Green Bay Packers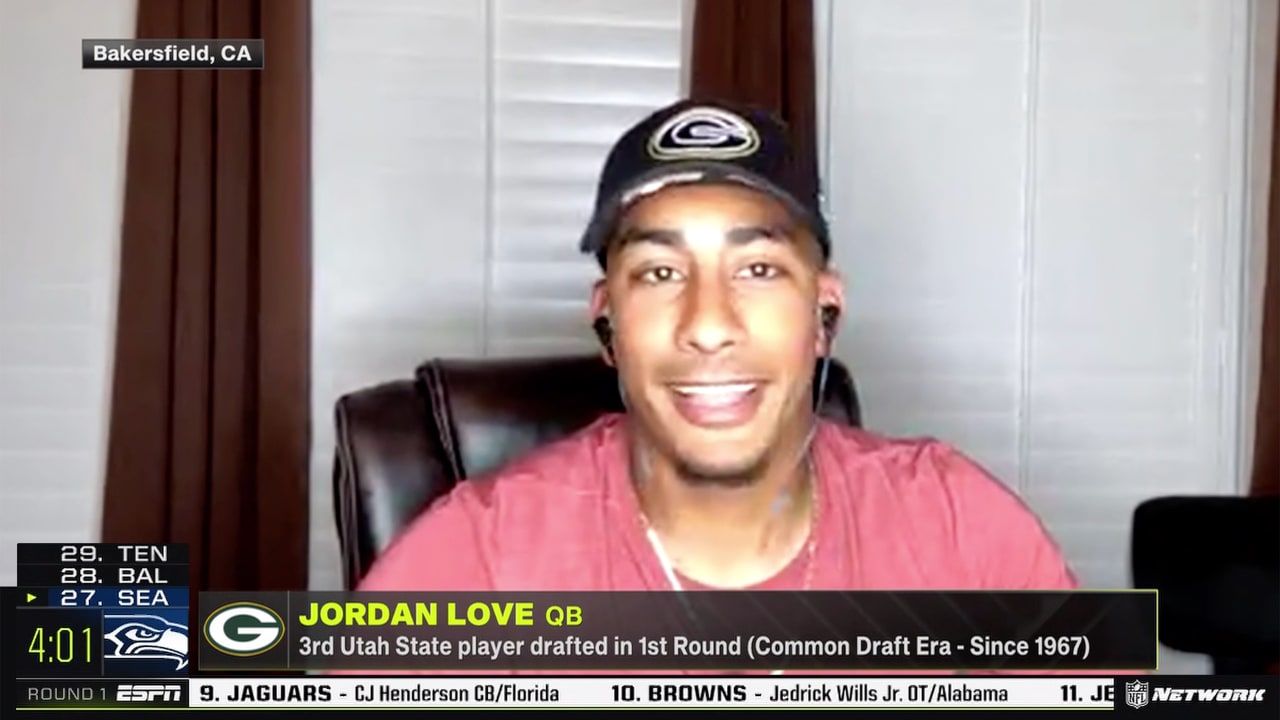 The Packers had pretty much a mind numbing draft all the way around. To me, and everyone else, they were destined to draft a WR to help bolster that already potent offense lead by QB Aaron Rodgers. They were so close to a Super Bowl berth had that offense had a few more weapons besides WR Davante Adams. Well, instead they move up the draft board on Day 1 and select Rodgers successor at a time where they could have drafted a WR. I get the move in trying to prepare for the future similar to what they did with QB Brett Favure, but when you're looking at arguably the best draft class of WRs, it's kind of mind boggling. A total of 27 WRs were drafted in all three days and the Packers didn't draft a single one. They also went after a bruiser in Round 2 in RB A.J. Dillon possibly hinting at the fact that RB2 Jamaal Williams won't be in Green Bay much longer. I can understand why they drafted the way they did by investing in their future. I just can't understand why they would at least why they would not try to get Rodgers a little more help with this WR class. We'll see how this works.
2. Las Vegas Raiders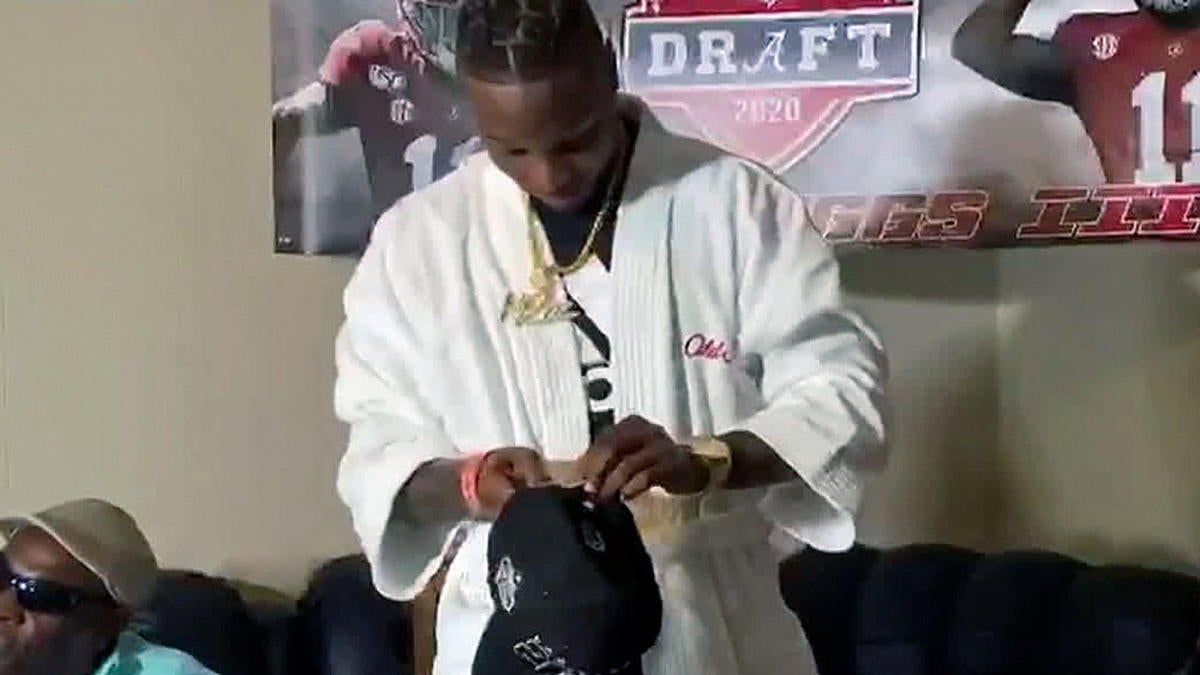 The Raiders did a decent job of drafting to their needs. However, they could have done a better job in their selection process. With their two first round picks, they stayed put and drafted WR Henry Ruggs III who decided to wear a bath robe which is beyond me and CB Damon Arnette. Ruggs is a fine pick but Arnette was a huge reach, in my opinion. He seemed more of an unpolished Day 2 guy. HC Jon Gruden and Co drafted a few more WRs to give QB Derek Carr more weapons. Overall, the Raiders could have gone a few different ways with their quality of picks, but they see something that I don't so it could work out for them in the long run.
3. Chicago Bears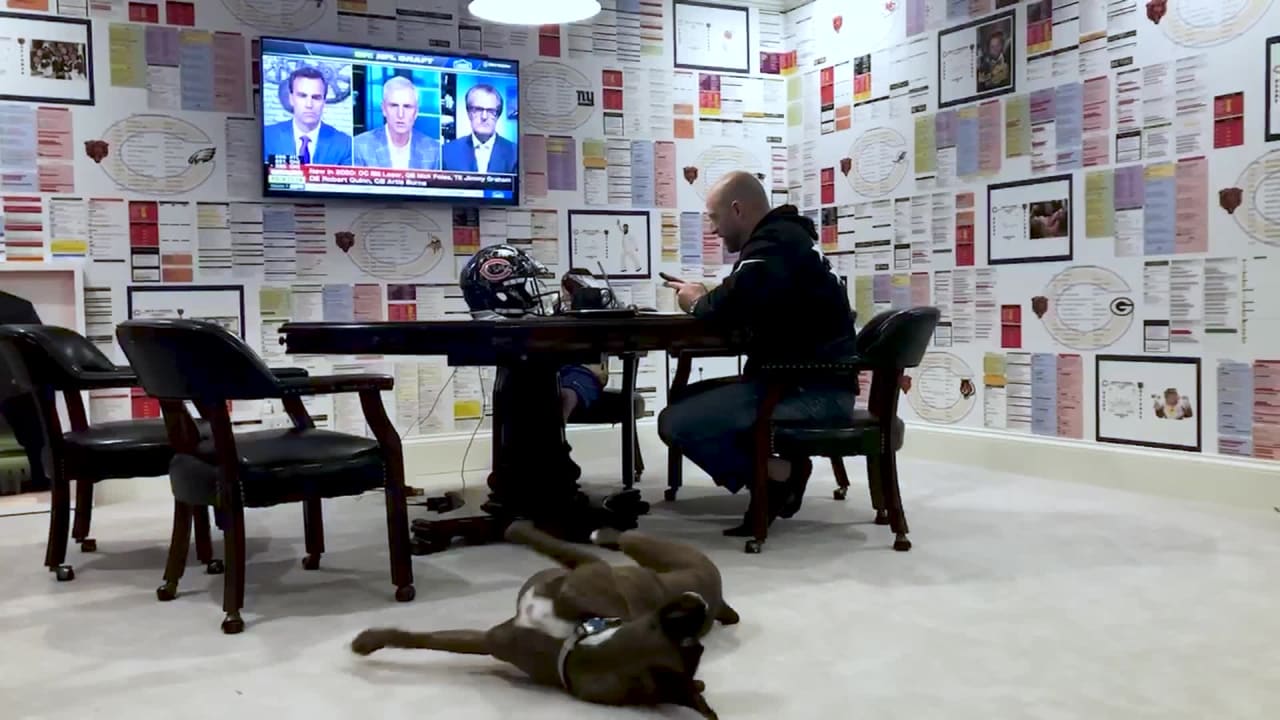 The Bears didn't have a first round pick because they have Khalil Mack. Which is great. However, I didn't understand their rationale for draft TE Cole Kmet. I think he is a great player with tremendous upside but that makes what? Like ten TEs on the roster? Obviously, they have something in mind if he was their first draft pick of 2020. I thought they would go after S Grant Delpit or even an OL. But they felt this pick was the best way they were going to succeed in 2020. They did have some pretty good picks across the board especially with CB Jaylon Johnson. I really like this guy for the Bears. The one thing that brings the Bears down a little more is Nagy's war room. All of those sheets of paper are his play calling charts. I could understand a wall full of those things which could look pretty cool. But to have a every single square in ch of one room, that is a little much. He might have to peel a few of those things off in 2020 if the season goes poorly and he needs to mix up his play calling.
4. Tennessee Titans
Tennessee had a better Day 2 and 3 than they did Day 1. They're Day 1 pick was OT Isaiah Wilson who is going to be tasked with replacing OT Jack Conklin who is headed to Cleveland. Wilson seemed like a guy who would have gone in Day 2 so this pick could be considered a reach. However, there is tremendous upside with this pick. Wilson has great size, ability, and he hasn't even reached his full potential. The Titans other picks included CB Kristian Fulton in Round 2 which is a great pick up as he could have gone Day 1. The other picks could be good back up guys but there are too many question marks. We also need to touch on what was going on behind Vrabel when he was picking. I don't know if those are his sons or what but they sure did take advantage of the draft begin virtual. I thought the one on the left was a popsicle of some sort but apparently he is supposed to be Frozone from "The Incredibles." The one on the right just looks like a goofball wearing a Patriots jersey. I get it's Vrabel's Pro Bowl jersey but he could do better. Oh he does look like a stallion with the mustache and mullet, I'll give him that. Either way, I'll probably hit these guys up in the future to see if they wanna join Top Shelf Takes.
5. New England Patriots
The Patriots traded out of Day 1 to acquire more picks throughout the draft. Their first pick was S Kyle Dugger from Lenoir-Rhyne. That seems like a huge stretch coming from us "know-it-alls." But apparently this guy his pretty highly regarded among the experts of the draft. He seems to fit Belichick's schemes and types of players. The Patriots went pretty much all defense this draft, as was expected. LBs Josh Uche and Anfernee Jennings came off the board next for the Patriots. Those two alone seem like really good additions. The next few picks were pretty much no-named guys who will probably not be that within the next few years. As always, I will give Belichick the benefit of the doubt. What he does is incredible. Lastly, I wanna point out the goodest of good boys. Belichick's dog took Day 1 by storm as ESPN tuned into the Belichick war room to find the dog sitting in his owner's chair and conducting the Patriots' draft. If he's anything like Belichick, this dog will be a future Hall of Famer.
Final note: Kansas City Chiefs HC Andy Reid looked like a man with incredible sex appeal as he sported a Hawaiian shirt. He looked incredibly comfy and made some fantastic picks in this draft. But have a look and you'll see for yourself.