First off, I think we can all agree we feel a little normal after having the draft. Yes, it was a little weird being virtual, and I personally think it's really cool when the players get drafted and go on stage holding their new team's jersey in front of the world. One thing that did suck was for those actually following the social distancing guidelines and only having a few people with them. Also, Commissioner Roger Goodell was very cringe trying to hype of up the virtual fans (RIP Chargers Fans) before he announced each pick. Nevertheless, last night happened and it was a success.
For the most part, the draft went according to plan. There weren't a lot of trades or completely outlandish selections. However, there were a few surprise picks and that's what we live for. With these picks, story lines were created and now, we're excited for the 2020 season to get here. There are a ton of great players still left on the board. I'm almost excited for Day 2 as I was for Day 1. Here are the picks from last night.
Cincinnati Bengals – Joe Burrow, QB, LSU
Grade: A
Why: This pick has pretty much been set since October. Cincy gets their QB of the future as they look to rebuild. I do feel bad for his draft party just being him and his parents. Wish he could have had a few more fans there. Oh well. He's happy, the Bengals are happy, and I'm happy.
2. Washington Redskins – Chase Young, DE, Ohio State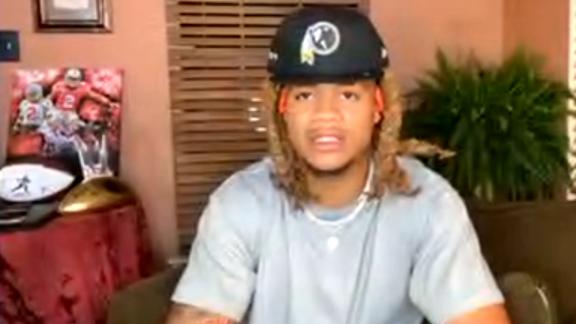 Grade: A
Why: Washington got the best player in the draft. There was some speculation they might trade down to a QB needy team. But they didn't risk losing Young which paid off. Young gets to go home and play for his favorite team growing up.
3. Detroit Lions – Jeff Okudah, CB, Ohio State
Grade: A-
Why: Detroit gets the best CB in the draft to help replace departing Pro-Bowl CB Darius Slay. Okudah has some work to do to improve his skills but not much. Patricia and the Lions did pretty good at #3.
4. New York Giants – Andrew Thomas, OT, Georgia
Grade: A
Why: GM Dave Gettleman could have easily gone with any of the top four OTs and would have done well. He drafts a guy who can be a Day 1 starter and help their young offense flow. I'm taking credit to saying Thomas was underrated and had him as the number one OT on my board. Great pick.
5. Miami Dolphins – Tua Tagovailoa, QB, Alabama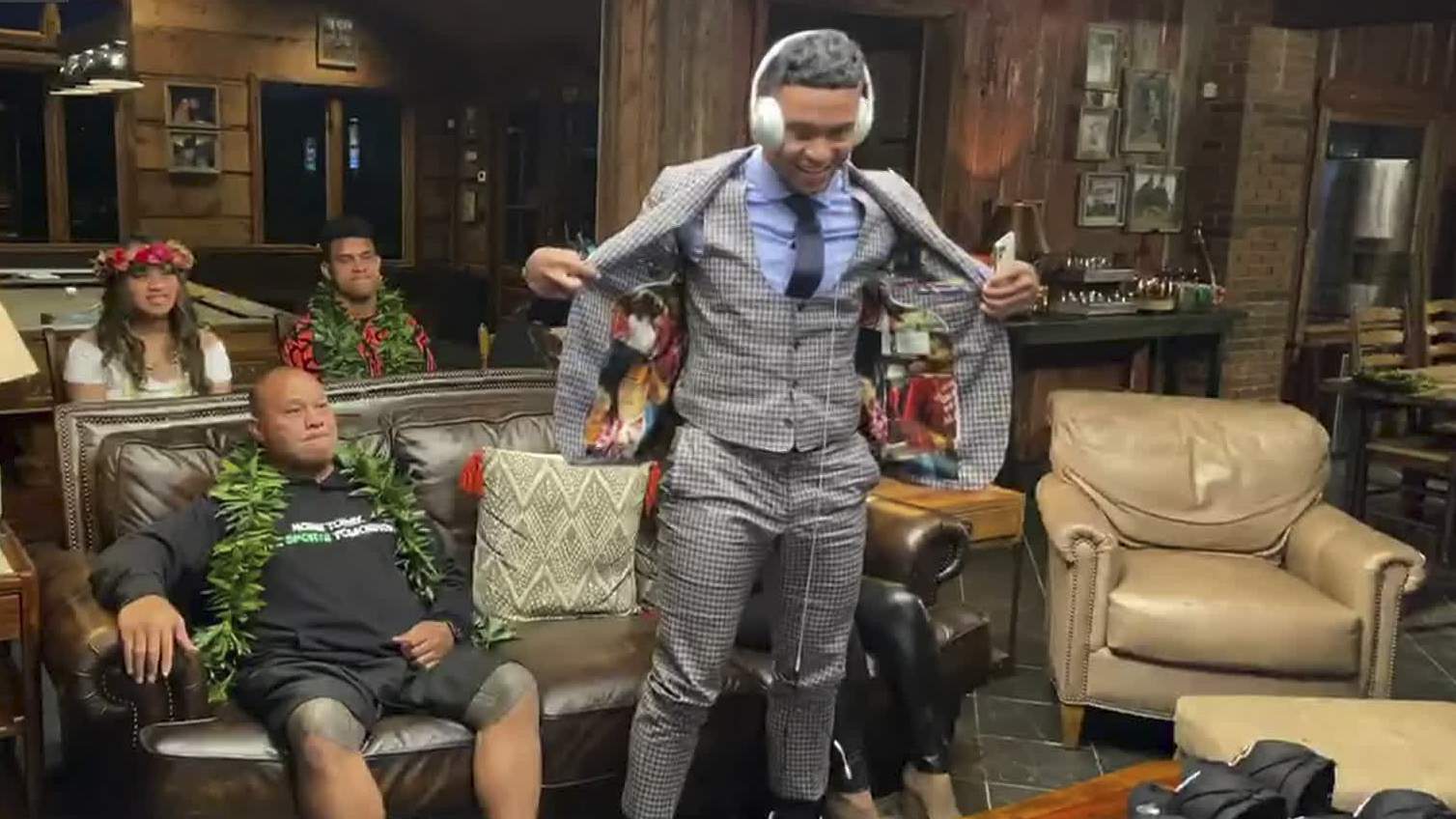 Grade: B+
Why: Tua's injury history is kind of scary but I think he will fair well in the NFL. He has some work to do to improve his game once he gets down to Miami. His three-piece suit was a nice touch. However, his family did not look pleased when he was drafted. The Dolphins did well with this pick.
6. Los Angeles Chargers – Justin Herbert, QB, Oregon
Grade: B+
Why: I suspect Herbert to sit behind Tyrod Taylor for at least a few games this season if not the whole season. Give him time to develop and he will be a star. His leadership capabilities will come as grows confidence. Great size and great arm strength.
7. Carolina Panthers – Derrick Brown, DT, Auburn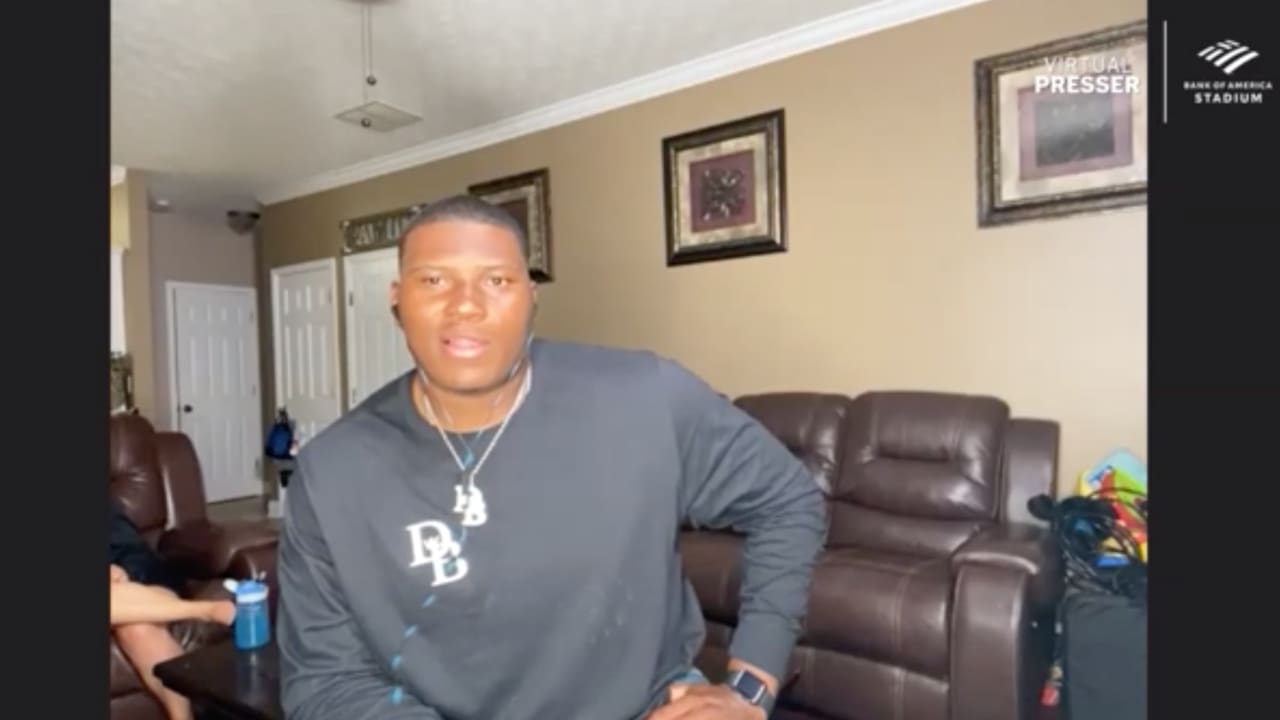 Grade: B
Why: With Isaiah Simmons on the board, I think the Panthers should have drafted him instead of Brown. However, I'm not going to knock Brown for being drafted. I think he will be a good addition to a defense looking to find its way under a new regime. I will say that I haven't been high on Brown from the start. Maybe he will prove me wrong.
8. Arizona Cardinals – Isaiah Simmons, LB, Clemson
Grade: A-
Why: Simmons is the Swiss Army knife defender the Cardinals need to spy on Russell Wilson and cover George Kittle and do everything in between. I don't think I would classify him as a linebacker, but more so a strong safety. I think the Cardinals should have gone with an OT, but I understand Simmons is too good to pass on.
9. Jacksonville Jaguars – C.J. Henderson, CB, Florida
Grade: B+
Why: I figured Jacksonville would take this pick. After losing both Jalen Ramsey and A.J. Bouye, they needed to take the best available CB fast. Again, I'm not terribly high on this CB class but with work, Henderson could be legit.
10. Cleveland Browns – Jedrick Wills Jr., OT, Alabama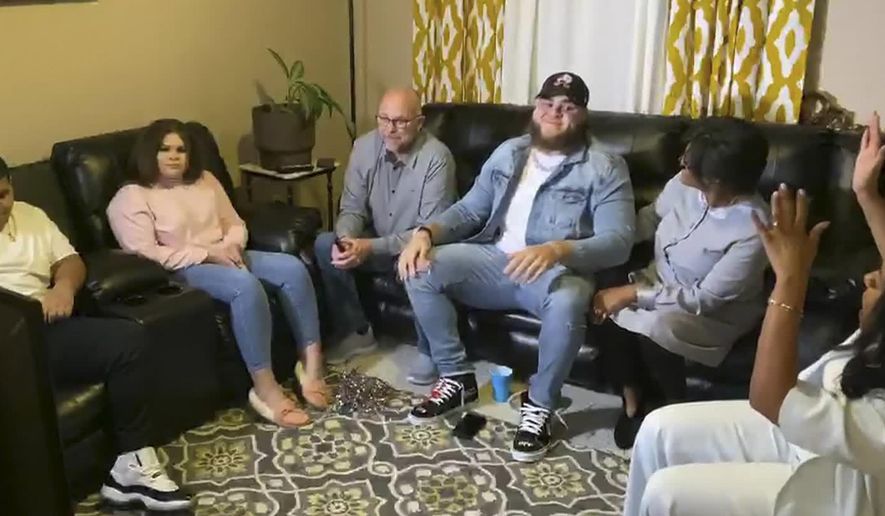 Grade: A
Why: The Browns got the OT that was number one on their board. A guy who was a three-year starter at Alabama on the right side of the line and only gave up one sack. Really impressive. He will have to make the switch over to the left side to protect Baker Mayfield's blind side.
11. New York Jets – Mekhi Becton, OT, Louisville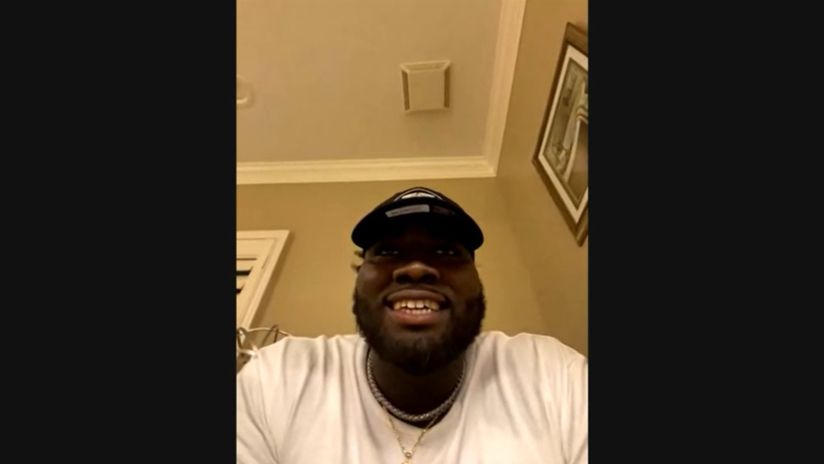 Grade: A
Why: The Jets absolutely needed this pick to get an OT. And they got an absolute monster. They could have gone with a WR but like I've been saying, this class is deep enough for them to find one later in the draft.
12. Las Vegas Raiders – Henry Ruggs III, WR, Alabama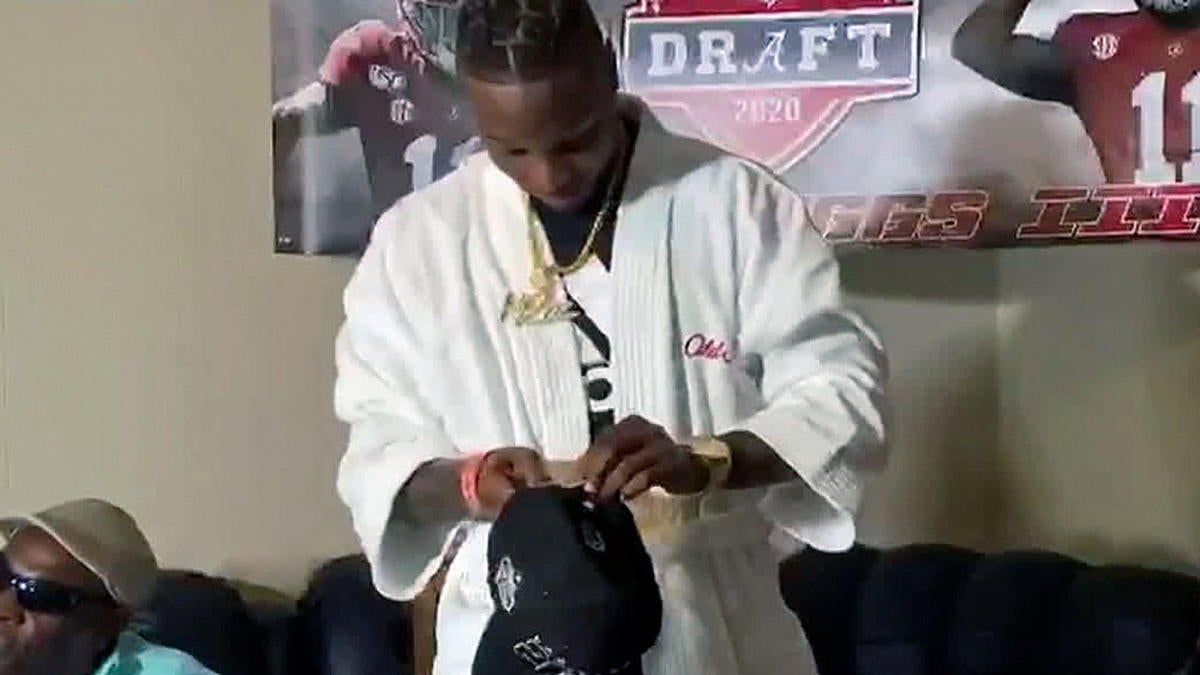 Grade: A-
Why: The Raiders needed an elite WR and they got one. I would have personally liked to see either Jeudy or Lamb here. However, I don't hate the pick and I feel like the Gruden will be able to utilize Ruggs better than most teams. I don't know why he chose to wear a robe but whatever.
13. Tampa Bay Buccaneers – Tristan Wirfs, OT, Iowa
Grade: A
Why: The Buccaneers swapped picks with the 49ers on this one once they saw Wirfs was slipping. This guy is the most athletic OT in this draft. Up top is a photo of him JUMPING OUT OF A POOL! Tom Brady will be well protected come this season.
14. San Francisco 49ers – Javon Kinlaw, DL, South Carolina
Grade: A
Why: GM John Lynch trades back one spot and still gets a "man among boys" in a DL who went from being homeless to a first round pick. I like this pick at 14 to replace DL DeForest Buckner. The 49ers can wait on a WR.
15. Denver Broncos – Jerry Jeudy, WR, Alabama
Grade: A
Why: Denver stays put and gets a future WR1 in Jeudy. Elway really did some good picking a guy who can come in and start right away to help QB Drew Lock reach is supposed potential. Good pick for the long haul.
16. Atlanta Falcons – A.J. Terrell, CB, Clemson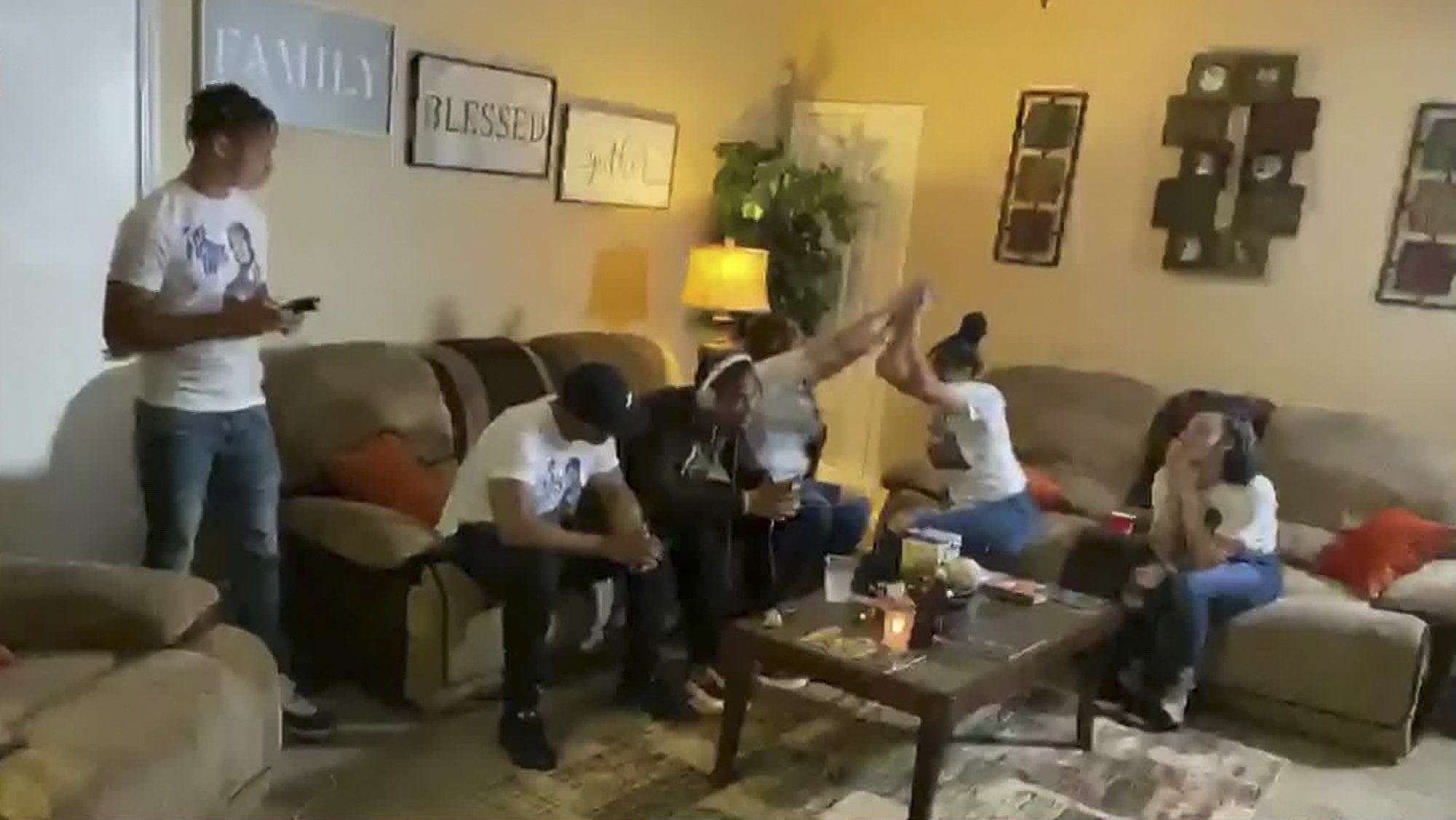 Grade: B-
Why: I really do think this was a reach for Atlanta. I suspected Terrell to go either later first round or somewhere in the 2nd and still be the 3rd or 4th best CB. I do believe Atlanta should have gone after a pass rusher to replace Vic Beasley Jr. We'll see if the pans out in their favor.
17. Dallas Cowboys – CeeDee Lamb, WR, Oklahoma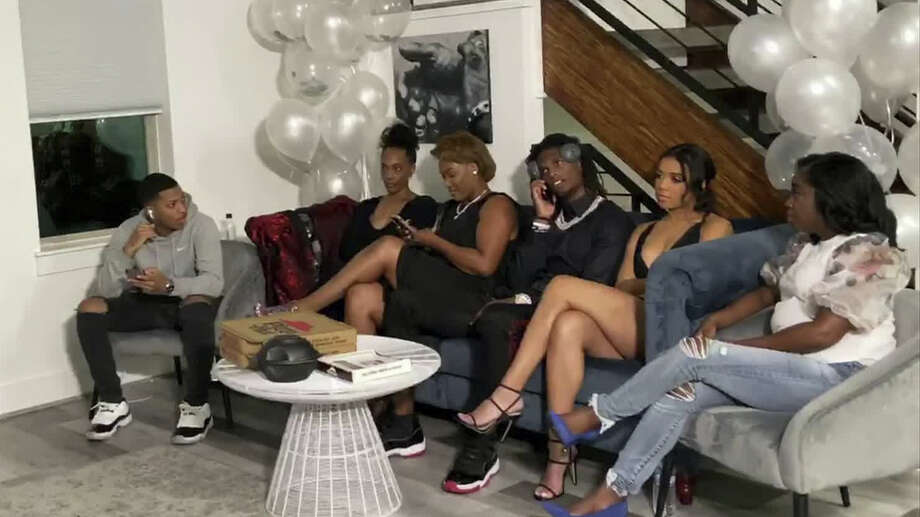 Grade: A
Why: The fact CeeDee fell this far is unbelievable. Jerry Jones picking by himself on his $250M yacht really paid off. The Cowboys are going to be really good this year. Hopefully, they can finally reach a Super Bowl for the first time in 25 years. Also, CeeDee and his girlfriend went viral after she took his phone and he immediately took it back. Interesting to see how that plays out.
18. Miami Dolphins – Austin Jackson, OT, USC
Grade: C+
Why: This was 100% a reach by the Dolphins at 18. I feel they could have waited until late first round to grab an OT and got one of the better players on the board. Jackson has a lot of work to in order to be ready to play this season as a starter. Hopefully, Miami can get the job done.
19. Las Vegas Raiders – Damon Arnette, CB, Ohio State
Grade: C+
Why: Again, I feel this was a reach by the Raiders. Their first pick was great. This pick, I feel, will take more work. Maybe I'm wrong. I had Arnette as my 5th best corner and that's pushing it. Hope for the best.
20. Jacksonville Jaguars – K'Lavon Chaisson, DE/OLB, LSU
Grade: A-
Why: Jacksonville addressed two of their biggest needs just in the first round. Chaisson is a very versatile defender who has the size and speed to be effective on that Jaguar defense. With the possibility of DE Yannick Ngakoue leaving after bickering with the owner, Shahid Kahn, over Twitter, this pick has become extremely valuable.
21. Philadelphia Eagles – Jalen Reagor, WR, TCU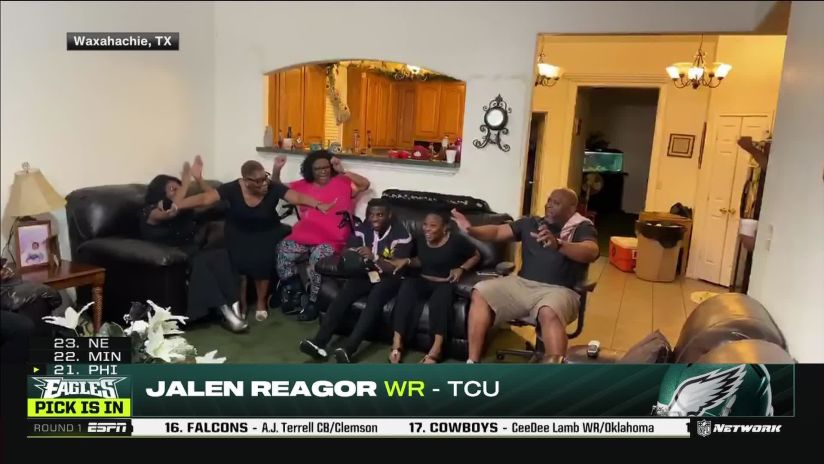 Grade: B
Why: I don't understand why the Eagles would pass on Justin Jefferson (my 4th best WR). But they did. I don't think Reagor is a terrible pick, I just think they would have been better off getting someone with a little bit more size. It will be interesting to see how the Eagles utilize him, possibly similar to Tyreek Hill.
22. Minnesota Vikings – Justin Jefferson, WR, LSU
Grade: A
Why: The Vikings did the right thing in drafting Jefferson since he fell into their lap. With Stefon Diggs departing for Buffalo (which is why they have this pick), this was a much needed pickup for Mike Zimmer. Kirk Cousins has a new target who can help compound on his upward trajectory.
23. Los Angeles Chargers – Kenneth Murray, LB, Oklahoma
Grade: A-
Why: The Chargers traded both their second and third round picks to New England for this pick. That must really mean they like what they see in Murray. I had him as my LB2 behind Simmons due to his athletic ability and overall demeanor. I don't know if I would have given up that much for him, but let's hope this pays off.
24. New Orleans Saints – Cesar Ruiz, OL, Michigan
Grade: B+
Why: Going into this draft, the Saints didn't have a whole lot holes on either side of the ball. I figured they would have gone with either an LB or a DB. But when you're competing for a Super Bowl and have an older QB in Drew Brees, keeping him upright and off the ground is essential. I'm growing to like this pick.
25. San Francisco 49ers – Brandon Aiyuk, WR, Arizona State
Grade: A-
Why: San Francisco essentially swapped picks with Minnesota sending them down to 31. They saw a guy who could be a replacement for departing WR Emmanuel Sanders. I believe Lynch and Shanahan like this big for the long run as they try competing for another Super Bowl run.
26 – Green Bay Packers – Jordan Love, QB, Utah State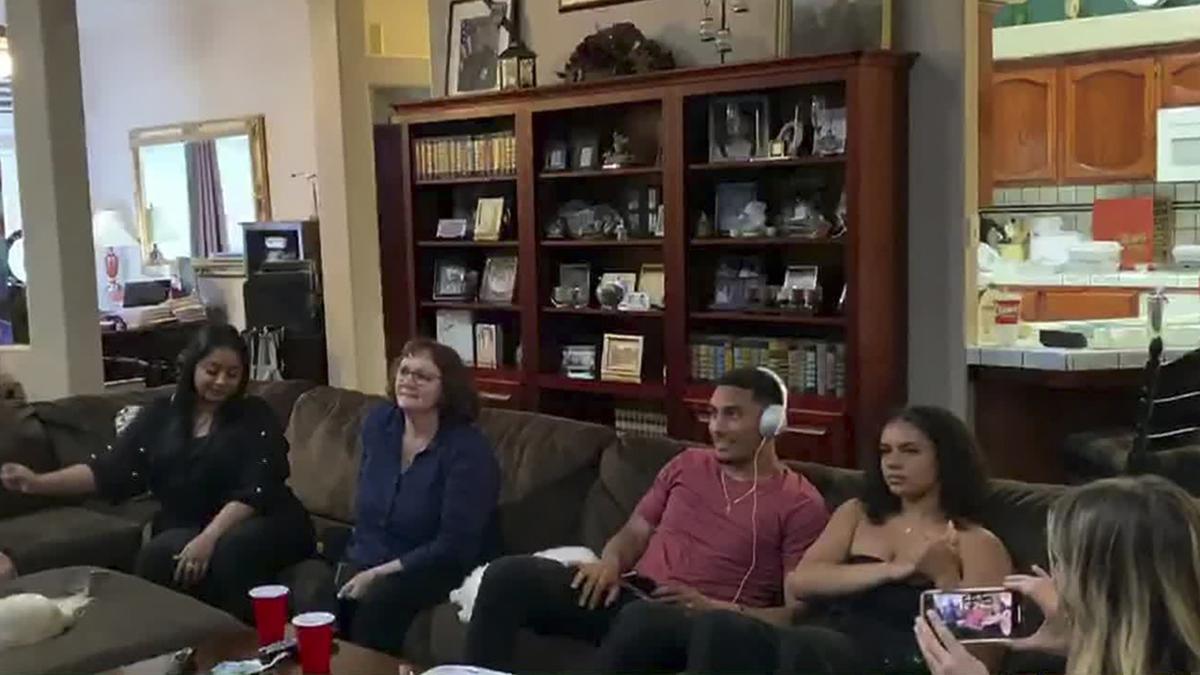 Grade: B+
Why: This was by far the most surprising pick of the draft. The Packers switch spots with the Dolphins who go to number 30, and draft QB Aaron Rodgers future replacement. I personally feel they should have gone WR to help get Rodgers more weapons. But like I've been saying, they can get them later in the draft with how deep this class is. The more I think about it, the more this makes sense. Brett Favre was Rodgers age when Rodgers was draft. Love has been compared to Rodgers. I'm going to be optimistic and say that this pick wasn't as bad as most think.
27. Seattle Seahawks – Jordyn Brooks, LB, Texas Tech
Grade: B
Why: I like Seattle going out and getting a young linebacker who has a lot of potential. I thought they would have gone OL here, but with Cesar Ruiz off the board, other lineman can wait. I didn't Brooks higher than my LB5 but I'm excited to see what he can do for the Seahawks.
28. Baltimore Ravens – Patrick Queen, LB, LSU
Grade: A-
Why: Kind of a go figure here. Whether it be Murray or Queen, Baltimore was going to draft a linebacker with this pick. Queen might be the guy they need to help strengthen the middle of that defense as they push towards a Super Bowl run.
29. Tennessee Titans – Isaiah Wilson, OT, Georgia
Grade: B
Why: The Titans needed to draft a tackle this year as they saw Jack Conklin head to Cleveland. Wilson is a big guy but he's not has polished as some of the other tackles in this draft. If Tennessee can work with him, he could be a really good pick in the long run.
30. Miami Dolphins – Noah Igbinoghene, CB, Auburn
Grade: B-
Why: I was really surprised with this pick. I don't have a lot of date on him but that doesn't mean he won't be a great talent for Miami. This could easily be considered a reach but I think Miami has seen something we all haven't. With this guy's parents being Olympic athletes, and him and his sister track athletes, his athleticism is off the charts.
31. Minnesota Vikings – Jeff Gladney, CB, TCU
Grade: A-
Why: I like this pick for the Vikings. I figured Gladney would be a late first round or second round pick. The Vikings have issues at CB due to free agency so this pick helps a lot going into the 2020 season.
32. Kansas City Chiefs – Clyde Edwards-Helaire, RB, LSU
Grade: B
Why: I think this isn't a terrible pick, however, I would have gone the defensive route if I were the Chiefs. I like Edwards-Helaire a lot. I feel he is extremely underrated. I just feel this might have been a little to early for this pick.