This is it! The final mock draft from Top Shelf Takes. Since Mock Draft 2.0 was released, there haven't been any significant signings or trades which is good because that makes my jobs little easier. I do, however, feel that there will be some shakeups throughout the Draft when it finally gets here this Thursday. Big time free agents are still left unsigned such as DE Jadeveon Clowney as well as a few have not been traded such as OT Trent Richardson. Just those two unclaimed play makers are bound to cause multiple teams to change their draft expectations. If this off-season has proven anything, it's to expect the unexpected.
It was announced via ESPN and their NFL Insiders that the 2020 NFL Draft will be conducted online through the streaming service Zoom. NFL coaches and GMs will submit their picks electronically which will then be announced by Commissioner Roger Goodell who will be in his basement at his home in New York. I am much looking forward in seeing how this will all play out. I can see it being very awkward, unnatural (obviously), and will 100% not run smoothly. Whether it's a glitch, someone's WiFi crashes, or God forbid someone hacks into this and messes up the picks, etc. There are just so many ways this could go wrong, I hope and pray the NFL literally covers all bases and has this thing go smoothly for the sake of us sports fans literally drooling for some good quality sports.
Regardless of how the picks will be announced, this draft class is something to die for. There are very few shortages at multiple positions and outstanding playmakers that can be found after the first round. Again, this draft will not have trades but trades will be mentioned. Team needs are updated, though, free agency has been pretty stagnant the last week and a half.
Without further to do, here is the final mock draft before the 2020 NFL Draft! Let us know what you think!
Cincinnati Bengals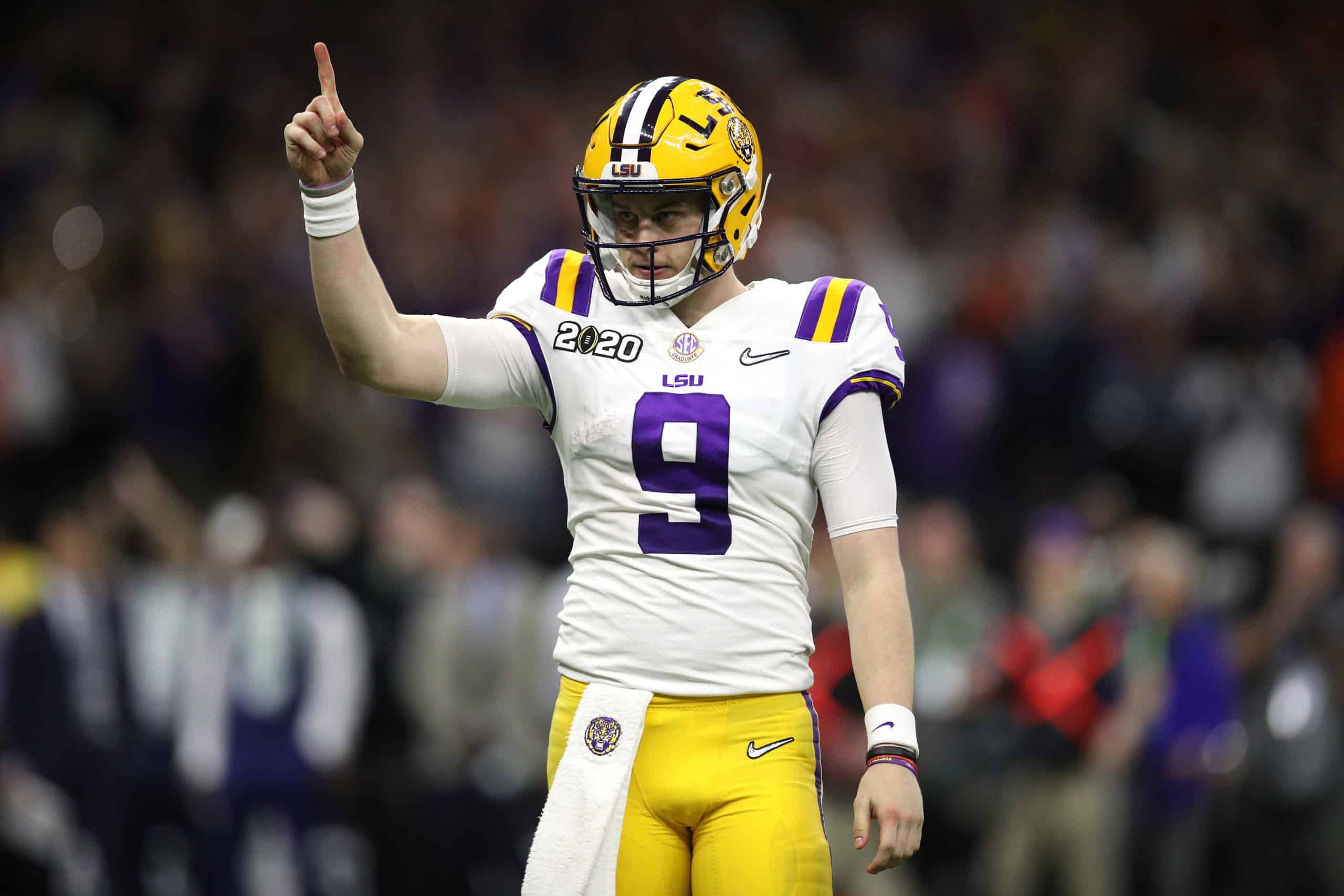 The Pick: Joe Burrow, QB, LSU
Year: Senior (RS) || 6'4″ / 221 lbs.
Why: QB Andy Dalton put up an impressive video on social media of him throwing footballs into a net with his kids. His passes were crisp, accurate, and made him look like a starter. While he could still be a starter, it won't be for this team who decide to look past a video of him and his kids. Burrow will be the starter for Cincy come Week 1.
Team Needs: QB, OL, LB
2. Washington Redskins
The Pick: Chase Young, DE, Ohio State
Year: Junior || 6'5″ / 264 lbs.
Why: The Redskins could trade this pick to a team like Miami or someone looking to draft a QB. They might even stay put and pick a QB themselves. However, in this mock draft, they stay put and pick the best player in the draft. New HC Ron Rivera and DC Jack Del Rio will love this pick who looks to make his presence known come September when the season begins.
Team Needs: DE, OT, IOL
3. Detroit Lions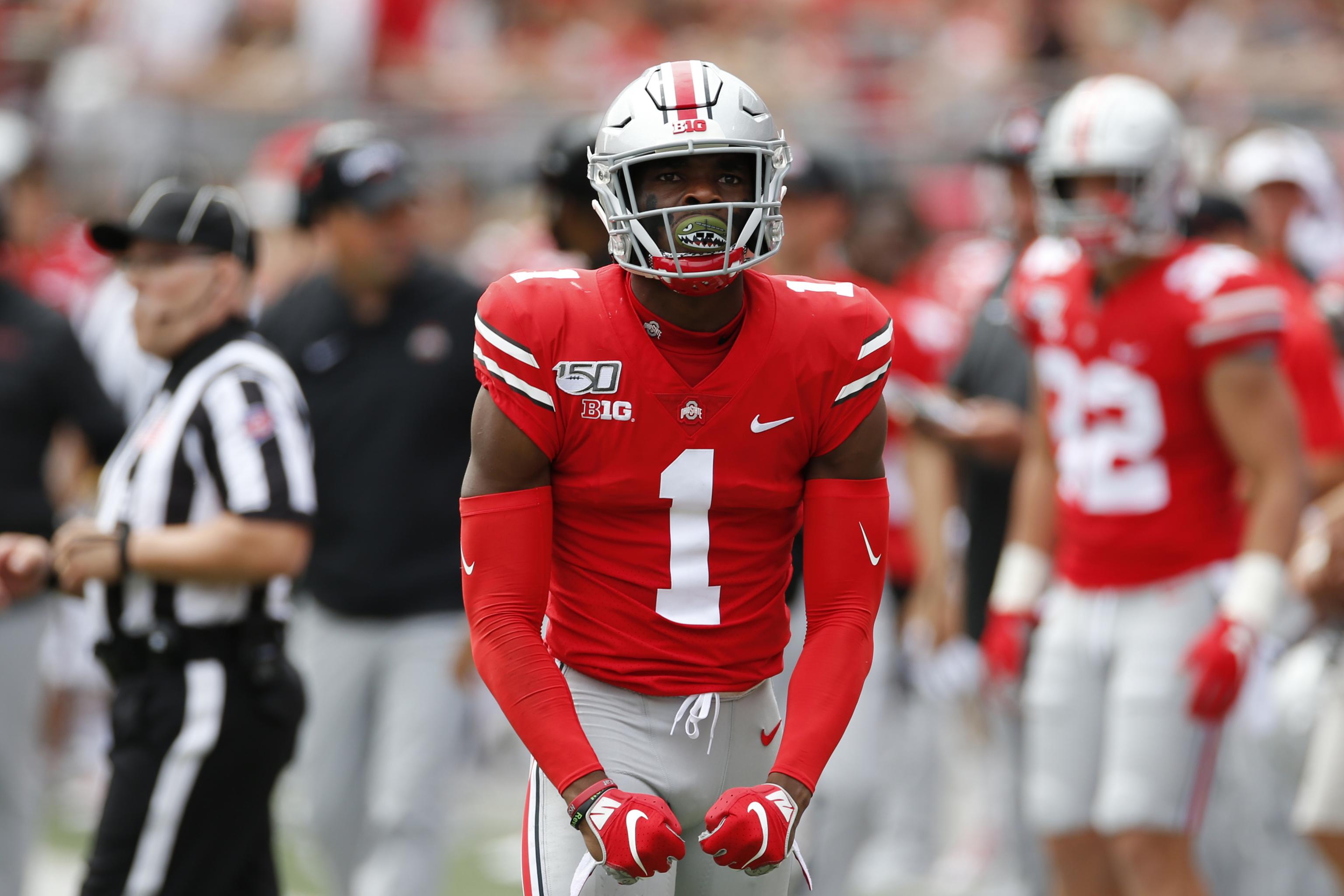 The Pick: Jeff Okudah, CB, Ohio State
Year: Junior || 6'1″ / 205 lbs.
Why: The Lions are another team that is rumored to be shopping a potential trade in picks for a team looking to move up. While this could be beneficial in the long run, I feel they stay put and take the best player on the board. Patricia will be coaching out of his mind this season to try and get him off the hot seat. Hopefully, Okudah can step in and help save his HC from being fired.
Team Needs: CB, DL, OLB
4. New York Giants
The Pick: Isaiah Simmons, LB, Clemson
Year: Junior || 6'4″ / 238 lbs.
Why: The Giants should go for an OT here. They need to keep budding QB Daniel Jones healthy and help open up the offense for RB Saquon Barkley so he could work his magic. The top four OTs can and will be Day 1 starters for whichever team should choose them. They're that good. But GM Dave Gettleman cannot pass on the do-everything Simmons who can be one of those guys who never leaves the field. The Giants love this pick going into the 2020 season.
Team Needs: OT, LB, DE
5. Miami Dolphins
The Pick: Tua Tagovailoa, QB, Alabama
Year: Junior || 6'0″ / 217 lbs.
Why: In Mock Draft 2.0, I decided to give into the rumors that the Dolphins were losing interest in Tua due to his health concerns. While I am still skeptical, I can't help but see the Dolphins trading up to get their future franchise QB. Tua has a remarkable amount of tape where he shows what he can do with the football in his hands. If he learns to stay in the pocket and can stay healthy, Miami will be in good hands.
Team Needs: QB, OT, S
6. Los Angeles Chargers
The Pick: Andrew Thomas, OT, Georgia
Year: Junior || 6'5″ / 324 lbs.
Why: The Chargers could easily go for a QB here. They could trade up or down and acquire more picks. There are also rumors circulating that they will draft Tua if Miami passes on them. To me, along with New York and possibly Detroit with trades, the rest of the draft will be determined with what the Chargers do. I see them drafting an OT in Andrew Thomas who, in my opinion, has been severely underrated among the other tackles. I firmly believe, along with Jedrick Wills Jr., are the two most pro-ready OTs. The Chargers already have solidified the right side of their line in acquiring OG Trai Turner and OT Bryan Bulaga. I feel they go with QB Tyrod Taylor for 2020 and getting a QB in 2021 with a line ready to go.
Team Needs: OT, QB, CB
7. Carolina Panthers
The Pick: Derrick Brown, DT, Auburn
Year: Senior || 6'5″ / 326 lbs.
Why: I have been skeptical of Derrick Brown since the beginning of this offseason. His tape is good but I just have a hard time seeing him as a top-ten pick. However, this is a draft that is rather weak when it comes to the defensive line. Also, add to the fact that a lot of people who eat, breathe, and sleep the NFL Draft seem to be high on him. So I will go with the masses and pencil in Brown going to a Carolina team full of needs on the defensive side of the ball.
Team Needs: DL, LB, CB
8. Arizona Cardinals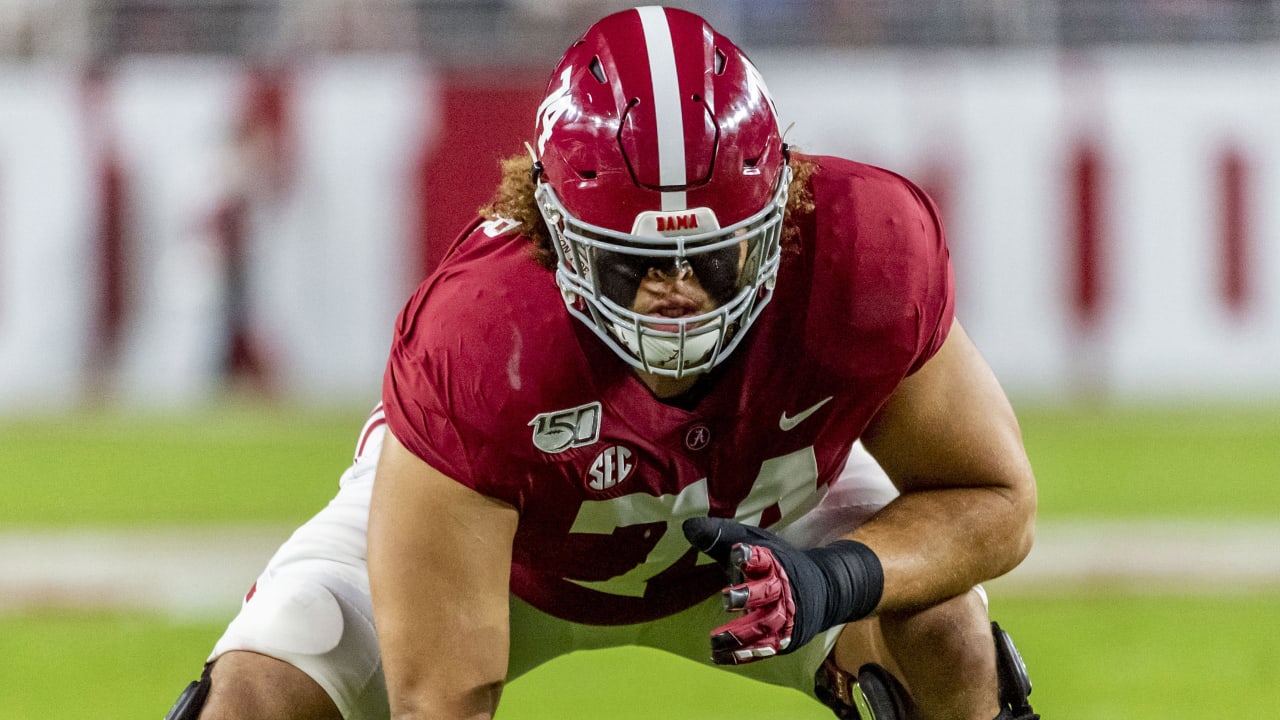 The Pick: Jedrick Wills Jr., OT, Alabama
Year: Junior || 6'4″ / 312 lbs.
Why: The second OT to go off the board is, who I feel, going to be the best tackle coming out of this draft. According to senior NFL Analyst at NFL.com, Gil Brandt, Wills made 29 starts in 3 season at Alabama and only gave up ONE sack. If that doesn't sell any team then I don't know what will. The Cardinals absolutely love this pick as they solidified the left side with signing OT DJ Humphries earlier this offseason, now they have Wills who is a master on the right side but has the athleticism to play both.
Team Needs: OT, DL, LB
9. Jacksonville Jaguars
The Pick: CJ Henderson, CB, Florida
Year: Junior || 6'1″ / 204 lbs.
Why: Henderson is one of those players who continues to fluctuate in mock drafts and big boards. Some would consider this pick to be too high. However, I feel the Jaguars are a team who have to win this season. They could easily go QB (I personally don't see QB Gardner Minshew being their guy after 2020), OT, or DL and all would be good picks for a team that has holes all over the field. After losing both starting CBs from last season, this team picks up the best CB available who could be one of the better picks of this draft.
Team Needs: CB, OT, DL
10. Cleveland Browns
The Pick: Mekhi Becton, OT, Louisville
Year: Junior || 6'7″ / 364 lbs.
Why: The Browns had another great offseason with key acquisitions for a team that did not live up to the hype in 2019. GM Andrew Berry seems to be the next big GM in the league with the way he has met some serious team needs this offseason. With the signing of OT Jack Conklin, the Browns solidified the right side of the offensive line. And by drafting Becton, or really any of the top four tackles, it looks like the left side will be complete. Becton has a very high ceiling in the NFL. With his size and agility, QB Baker Mayfield will have no excuses to not perform well this coming season.
Team Needs: OT, S, LB
11. New York Jets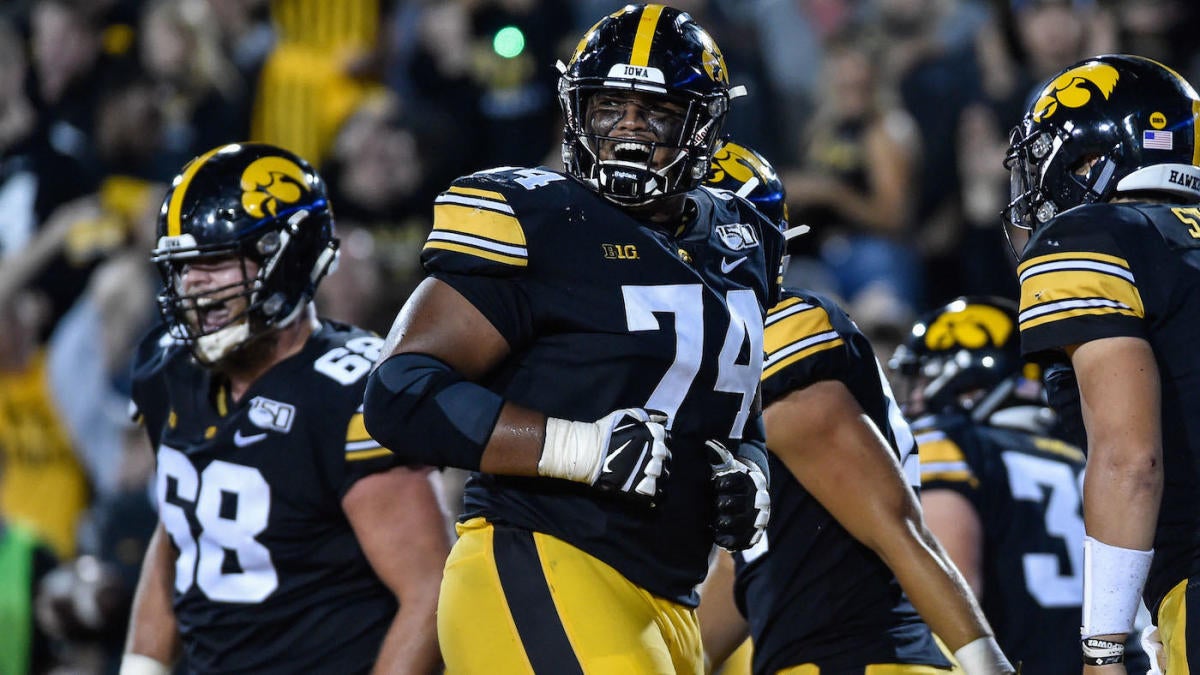 The Pick: Tristan Wirfs, OT, Iowa
Year: Junior || 6'5″ / 320 lbs.
Why: The Jets could go a number of ways with this pick to help QB Sam Darnold unfold into what they believe he can be. Departing weapons this offseason have not helped matters. This WR is very deep and they could find a very good weapon for him later on in the draft. The best way to ensure that he has the opportunity to be successful is to get him some protection. Wirfs might be the most athletic tackle in this draft having produced some insame combine numbers and his versatility to play both tackle spots.
Team Needs: OT, DE, WR
12. Las Vegas Raiders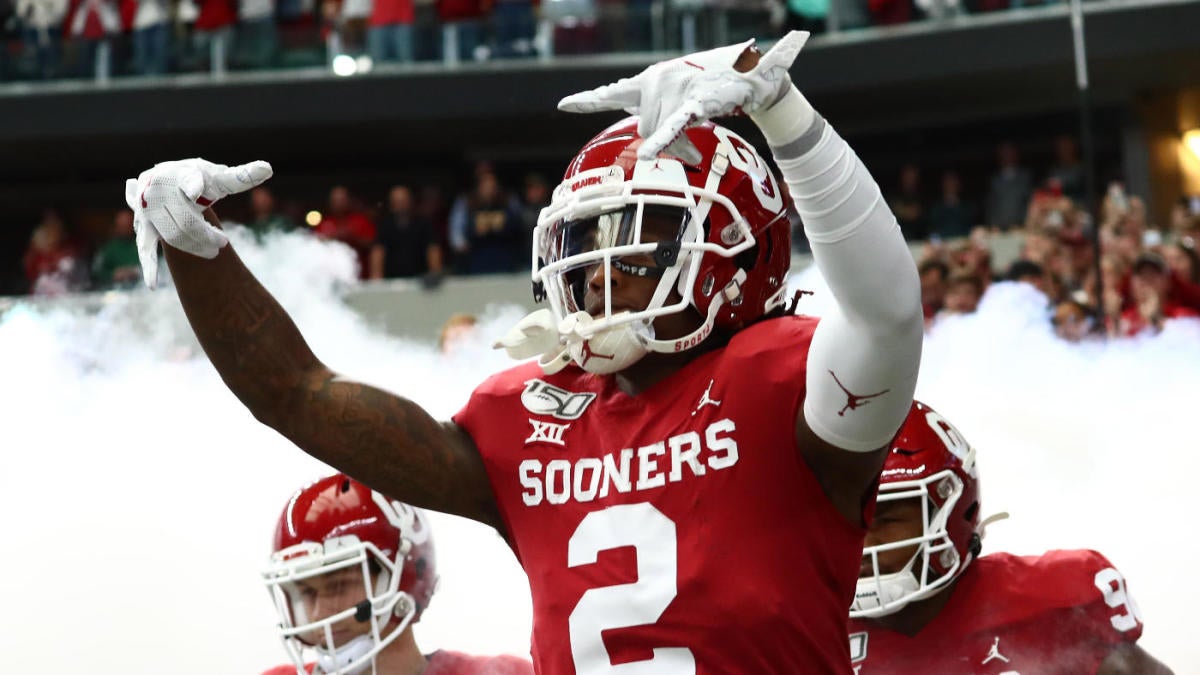 The Pick: Ceedee Lamb, WR, Oklahoma
Year: Junior || 6'2″ / 198 lbs.
Why: The Raiders use their first of two first round picks in selecting the number on WR in this draft. Lamb becomes the active playmaker that could be revive QB Derek Carr's careers and bring HC Jon Gruden's offense into full swing in 2020. The Raiders could also be team shopping picks and could perhaps be looking at acquiring a QB. Las Vegas is unsure if their new stadium in the desert will be ready to go by Week 1. Hopefully, they will find somewhere to play other than Oakland which could be very catastrophic.
Team Needs: WR, CB, DL
13. San Francisco 49ers (from Indianapolis)
The Pick: Jerry Jeudy, WR, Alabama
Year: Junior || 6'1″ / 193 lbs.
Why: GM John Lynch shipped former first round pick DT Deforest Buckner to Indy for the 13th overall pick in this year's draft. With this pick, they look to replace departing WR Emmanuel Sanders. Jeudy might have the highest floor of all the receivers in this draft so it will be pretty easy for HC Kyle Shanahan to implement Jeudy into this already stellar offense.
Team Needs: WR, CB, OL
14. Tampa Bay Buccaneers
The Pick: Josh Jones, OT, Houston
Year: Senior || 6'5″ / 319 lbs.
Why: Tampa Bay is looking forward to having one of the more electric offenses in the NFL come this 2020 season. In order for that to work, they need to protect their most prized possession in QB Tom Brady. This pick might be reach, however, the Bucs cannot sit at 14 and not draft the best OT available. Yes, they could possibly trade up to get one of the better OTs but Jones isn't a bad consolation prize. He had an amazing senior year at Houston and was one of the better players to come out of the Senior Bowl.
Team Needs: OT, RB, S
15. Denver Broncos
The Pick: Henry Ruggs III, WR, Alabama
Year: Junior || 6'0″/ 190 lbs.
Why: The Broncos are going with QB Drew Lock. Wow. To help make him look like not a total bust, they're going to need to get him some weapons. Yes, they're free agency wasn't that great and could use some help on defense. But GM John Elway can't pass up on Ruggs who is the fastest receiver in this draft. Pairing him budding WR Courtland Sutton and TE Noah Fant as well as the addition of Pro-Bowl RB Melvin Gordon, Denver looks to make things interesting the AFC West in 2020.
Team Needs: WR, CB, LB
16. Atlanta Falcons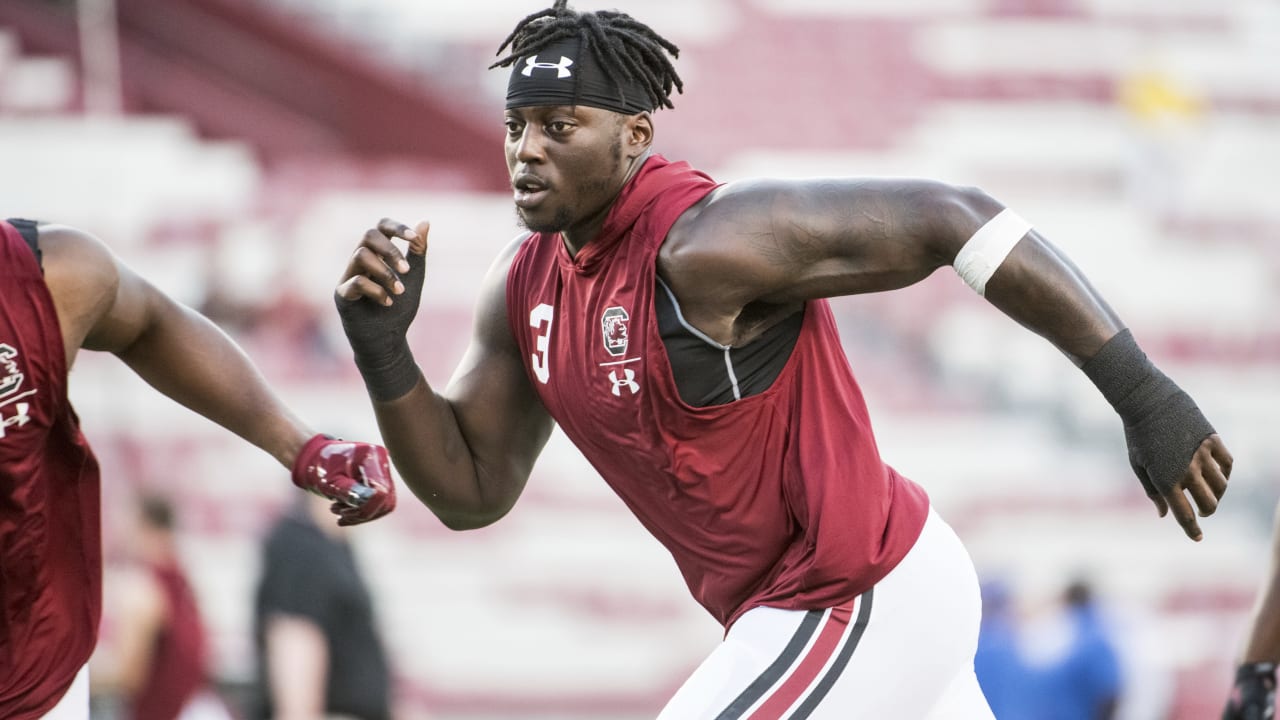 The Pick: Javon Kinlaw, DL, South Carolina
Year: Junior || 6'5″ / 324 lbs.
Why: Much like CB CJ Henderson, Kinlaw is a guy who could go to a variety of teams in the early-mid first round. I feel like he will be one of the better first round picks of this draft due to his size, strength, and his overall demeanor. Considering this guy was once homeless makes this pick even better for Atlanta. A coach in the SEC once said that Kinlaw plays like a "man among boys." If that isn't a selling point for a team, then that team is looking to lose in 2020.
Team Needs: CB, DL, LB
17. Dallas Cowboys
The Pick: K'Lavon Chaisson, OLB, LSU
Year: Sophomore (RS) || 6'3″ / 254 lbs.
Why: Jerry Jones and the Boys would like to have selected a DB of some sort with this pick. Unfortunately, that would be a reach at 17 and they should go with the best player on the board. Chaisson had a monster season in 2019 as defensive captain and capped all off with winning a national championship. Dallas will be excited to implement him into their defense as they look to make a playoff run this coming season.
Team Needs: CB, OLB, S
18. Miami Dolphins (from Pittsburgh)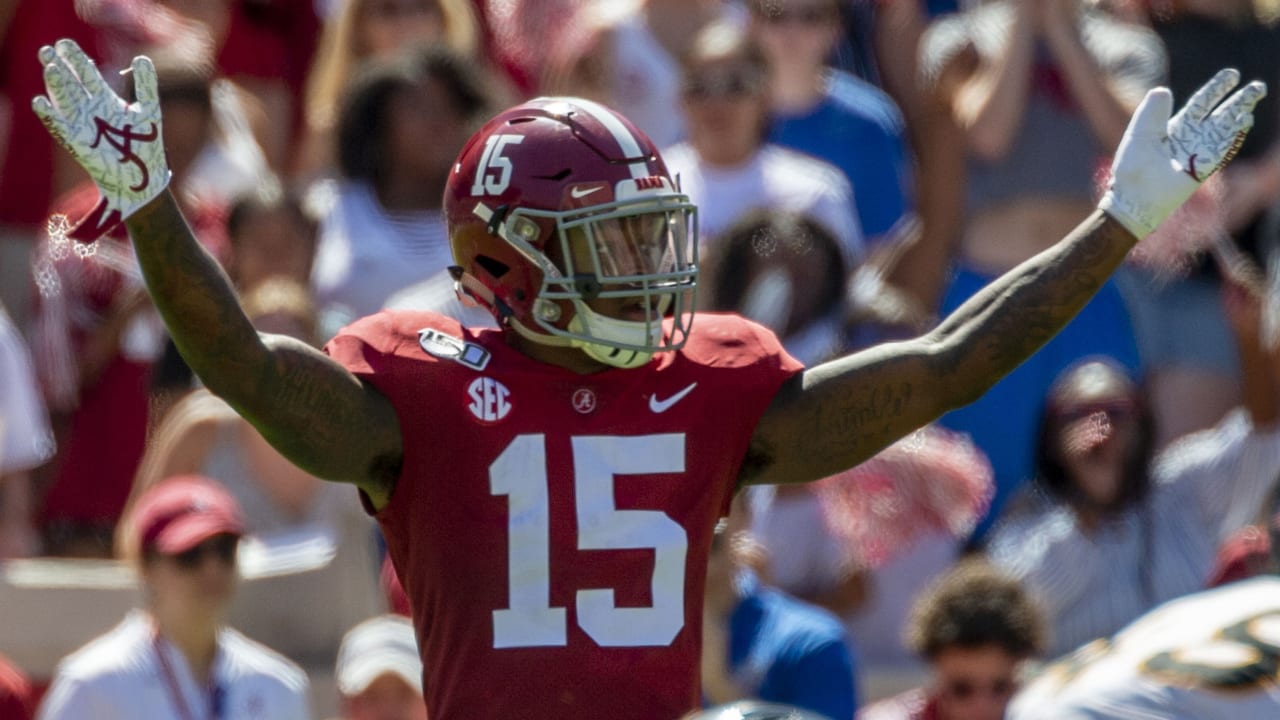 The Pick: Xavier McKinney, S, Alabama
Year: Junior || 6'0″ / 201 lbs.
Why: Miami got their franchise QB and offensive general in Tua with the fifth overall pick. Now, they have a chance to draft someone who could be the leader of their defense. With their free agent acquisitions, Miami looks to be heading in the right direction and, maybe, in a few years they will be in the playoff hunt. Adding a good mix of youth and veterans in Miami will be a recipe for success they have been longing for.
Team Needs: QB, OL, S
19. Las Vegas Raiders (from Chicago)
The Pick: A.J. Terrell, CB, Clemson
Year: Junior || 6'1″ / 195 lbs.
Why: Las Vegas addresses the defensive side of the ball with their second pick in the first round. This pick could possibly be included in a trade package to address other needs, however, with their active free agency, the Raiders stay put. After Okudah and Henderson, it is difficult to gauge who the third best CB in this draft is. I'll go with the guy who has had one heck of a college career playing on some of the best defensive teams this game has seen. He had a few drawbacks in the 2019 national championship game against LSU, but that doesn't diminish the impact he has had across the board.
Team Needs: WR, CB, DL
20. Jacksonville Jaguars (from Los Angeles Rams)
The Pick: Justin Herbert, QB, Oregon
Year: Senior || 6'6″ / 227 lbs.
Why: Jacksonville is surprised to have Herbert fall this far in the draft. Yes, he will likely be off the board by now with trades and teams, like the Raiders, who could draft a QB. In this mock draft, he lands with the Jags at 20. Herbert as tremendous size and a cannon-like arm that will make him attractive for a team like Jacksonville who might not be so sure with their starting QB in Gardner Minshew. P.S. Herbert more than likely won't be here if trades were happening in this mock draft
Team Needs: CB, OT, DL
21. Philadelphia Eagles
The Pick: Justin Jefferson, WR, LSU
Year: Junior || 6'1″ / 201 lbs.
Why: I'm pretty sure I haven't changed this pick in a long time. Probably because it is that good of a pick for the Eagles who are looking to add some play makers that will help out QB Carson Wentz in becoming what we all thought he would be by now. If the Eagles can figure out their offense, I think they will continue to be in the playoff hunt and possibly win the NFC East if the Cowboys can't get it together in 2020. Taking the best available offensive weapon helps the Eagles immensely in the long run.
Team Needs: WR, LB, CB
22. Minnesota Vikings (from Buffalo)
The Pick: Kristian Fulton, CB, LSU
Year: Senior || 6'0″ / 197 lbs.
Why: The Vikings need a receiver to be paired with WR Adam Thielen who had a monster 2019 season, and with this WR class, they could easily grab one with this pick. Unfortunately, they have a huge need on the other side of the ball at CB with CBs Trae Waynes and Xavier Rhoades departing in free agency. This draft class isn't particularly too deep at that position. So HC Mike Zimmer and the Vikings go with the best available CB to help fill that gaping hole.
Team Needs: CB, WR, DE
23. New England Patriots
The Pick: Jordan Love, QB, Utah State
Year: Junior || 6'4″ / 224 lbs.
Why: Love is a guy who could easily not be here when the Patriots pick. It will come down to which teams decide to trade and what positions are involved. The Patriots have a lot of holes to fill for this upcoming 2020 season. I think it will be difficult for them to repeat as division champions based on what they currently have. However, we are talking Bill Belichick. He will find a way to win. There's talk they won't go after a QB, conventional wisdom says they won't, but if Love has the ceiling everyone says he has, he will be hard to not pass up.
Team Needs: QB, WR, OLB
24. New Orleans Saints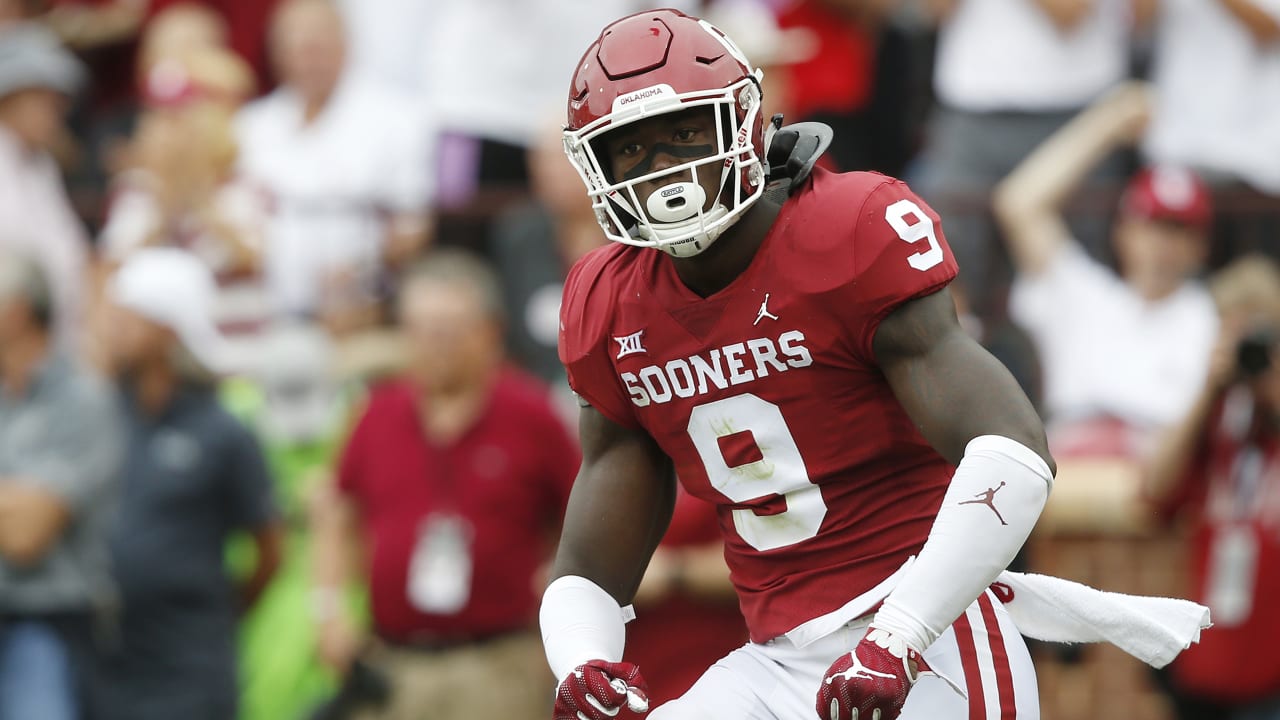 The Pick: Kenneth Murray, LB, Oklahoma
Year: Junior || 6'3″ / 241 lbs.
Why: I previously have had the Saints picking a QB at 24 in Mock Draft 3.0. I just do not see a particular position that is in dire need. With HOF QB Drew Brees headed out the door after this year, it only seemed logical they would take the best available QB, right? Well wrong. The Patriots snagged the last first round worthy prospect so the Saints are forced to pick the best player on the board in Murray; a rangy playmaker who could become the captain of any defense he is on. Murray can come in and be a Day 1 starter for the Saints who look to make one last shot at a Super Bowl before they are forced to reevaluate after this next season.
Team Needs: LB, QB, CB
25. Minnesota Vikings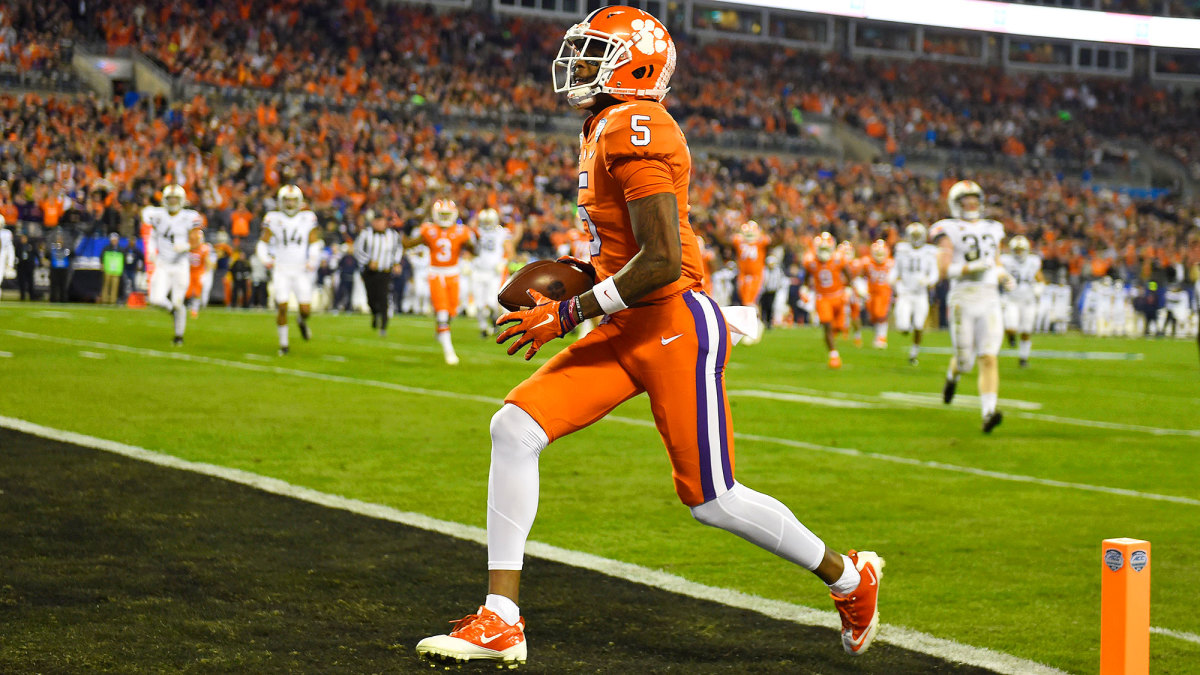 The Pick: Tee Higgins, WR, Clemson
Year: Junior || 6'4″ / 216 lbs.
Why: Minnesota found a valuable pick just a few spots up at 22 in CB Kristian Fulton. Now, they turn to the other side of the ball in selecting a WR who might go under some teams radars. Higgins has the size and strength to become a big target for QB Kirk Cousins who is coming off his best year yet. The Vikings could address a few other needs with this pick, particularly the defensive line, but I feel they will love Higgins once the season gets rolling.
Team Needs: CB, WR, DE
26. Miami Dolphins (from Houston)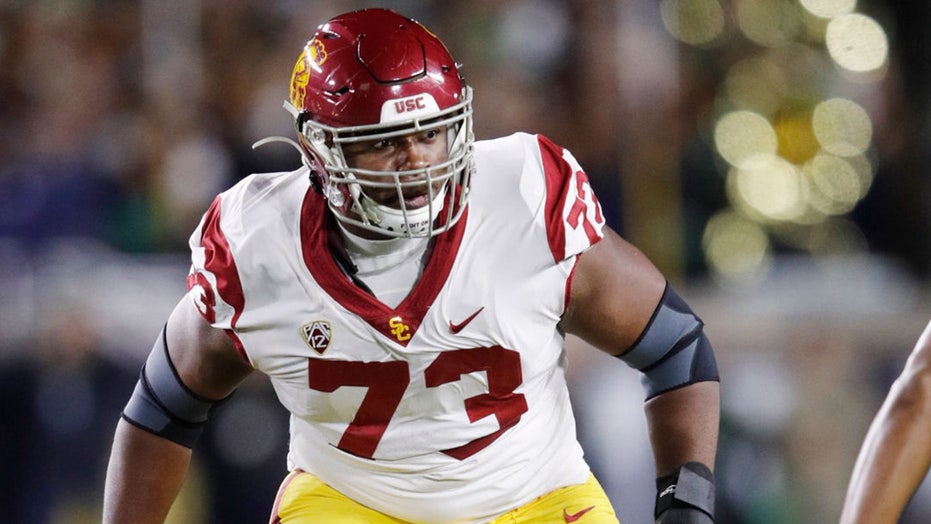 The Pick: Austin Jackson, OT, USC
Year: Junior || 6'5″ / 322 lbs.
Why: Miami could trade this pick and use it to acquire more picks, or they could use this pick to fill a long list of needs. I feel they go with someone who can protect the future of their franchise in QB Tua Tagovailoa. The Dolphins will look to help improve that offensive line in anyway possible and it starts at the tackle position. Jackson will be tasked with a hefty workload on the left side.
Team Needs: QB, OL, S
27. Seattle Seahawks
The Pick: Yetur Gross-Matos, DE, Penn State
Year: Junior || 6'5″ / 266 lbs.
Why: The Seahawks could go for an offensive lineman with this pick. They struggled to protect QB Russell Wilson last season and it would do them some good to make sure he is around for a little bit longer. However, Seattle looks to beef up their defense to help stay competitive in the NFC West. Especially with the possibility of DE Jadeveon Clowney leaving, they need an effective pass rush. Gross-Matos has tremendous size and strength that could help make up.
Team Needs: DE, OL, WR
28. Baltimore Ravens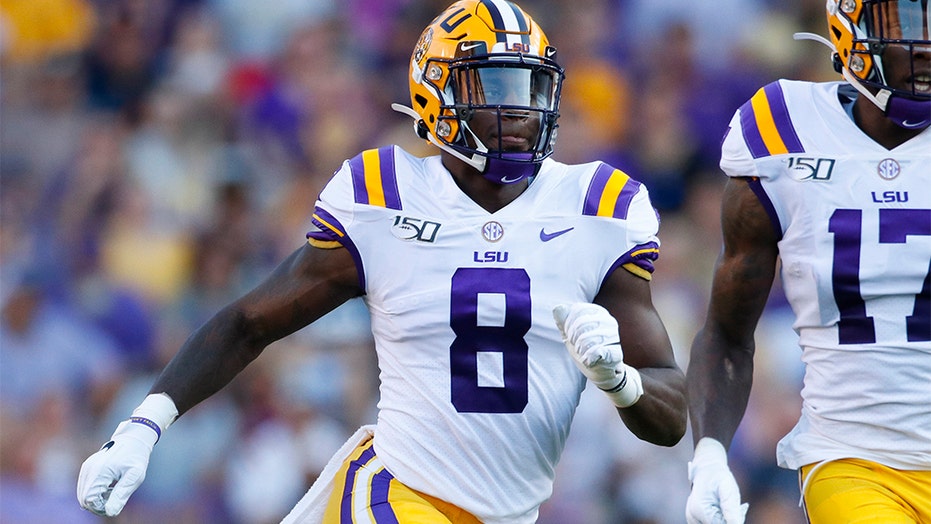 The Pick: Patrick Queen, LB, LSU
Year: Junior || 6'0″ / 229 lbs.
Why: The Ravens are in a pretty good spot with this pick. After Simmons, the next top three LB prospects are more than likely going to be waiting to be picked here at 28. Queen has the size, speed, and tackling efficiency to help solidify the middle of a Baltimore defense that has been looking to fill in the missing pieces that were felt last season.
Team Needs: LB, OL, WR
29. Tennessee Titans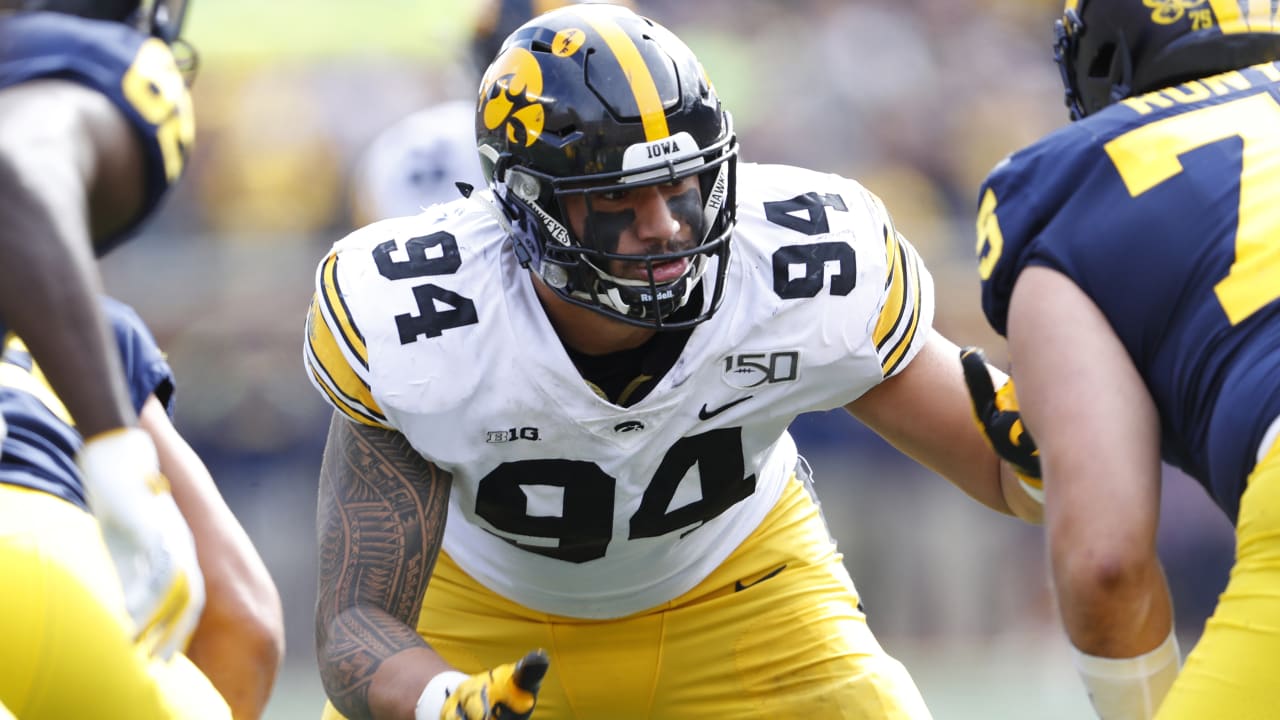 The Pick: A.J. Epenesa, DE, Iowa
Year: Junior || 6'6″ / 280 lbs.
Why: The Titans had a great ride in 2019 and look to compound on that success in 2020. With the addition of free agent DE Vic Beasley Jr., adding a big play maker in Epenesa will only make the defensive line better. HC Mike Vrabel will really like this pick once Week 1 comes around and this first rounder starts making big plays.
Team Needs: DL, OT, CB
30. Green Bay Packers
The Pick: Brandon Aiyuk, WR, Arizona State
Year: Senior || 6'0″ / 205 lbs.
Why: I am pretty sure in almost every mock draft you will read, the Packers will be picking a WR in the first round. That doesn't change here. Getting QB Aaron Rodgers play makers has to be number one priority for Green Bay heading into this draft. Yes, the Packers haven't drafted a WR in the first round since the stone ages, but with the team on the brink of making it to the Super Bowl, it's time.
Team Needs: WR, TE, DL
31. San Francisco 49ers
The Pick: Terrell Diggs, CB, Alabama
Year: Senior || 6'1″ / 205 lbs.
Why: With their second pick in the first round, the 49ers get one of the more versatile players in this draft. Diggs went into Tuscaloosa as a WR (like his brother WR Stefon Diggs) and came out one of the better corners in this draft. Unfortunately, injuries have hampered his career and caused him to slide on some draft boards. With his size and ball skills, I feel the 49ers take their shot with him and see a profit.
Team Needs: CB, WR, OL
32. Kansas City Chiefs
The Pick: Jeff Gladney, CB, TCU
Year: Senior || 5'10" / 191 lbs.
Why: Kansas City has very few holes after retaining the core of the Super Bowl winning team in 2019. However, there is always room for improvement. The defensive secondary showed a few signs of weakness early on in 2019 and throughout their Super Bowl run in the playoffs. Gladney has the coverage skills that could help fill those holes and, hopefully, help the Chiefs repeat their 2019 success.
Team Needs: CB, OL, RB
ROUND 2
33. Cincinnati Bengals – Zach Baun, LB, Wisconsin
34. Indianapolis Colts (from Washington) – Denzel Mims, WR, Baylor
35. Detroit Lions – Ross Blacklock, DL, TCU
36. New York Giants – Ezra Cleveland, OT, Boise State
37. Los Angeles Chargers – Noah Igbinoghene, CB, Auburn
38. Carolina Panthers – Jeremy Chinn, S, Southern Illinois
39. Miami Dolphins – D'Andre Swift, RB, Georgia
40. Houston Texans (from Arizona) – Neville Gallimore, DL, Oklahoma
41. Cleveland Browns – Grant Delpit, S, LSU
42. Jacksonville Jaguars – Laviska Shenault, WR, Colorado
43. Chicago Bears (from Las Vegas) – Cesar Ruiz, OL, Michigan
44. Indianapolis Colts – Jalen Reagor, WR, TCU
45. Tampa Bay Buccaneers – Jonathan Taylor, RB, Wisconsin
46. Denver Broncos – Jaylon Johnson, CB, Utah
47. Atlanta Falcons – Antoine Winfield Jr., S/CB, Minnesota
48. New York Jets – Terrell Lewis, DE, Alabama
49. Pittsburgh Steelers – Isaiah Wilson, OL, Georgia
50. Chicago Bears – Ashtyn Davis, S, California
51. Dallas Cowboys – Kyle Dugger, S, Lenoir-Rhyne
52. Los Angeles Rams – Jordyn Brooks, LB, Texas Tech
53. Philadelphia Eagles – Curtis Weaver, DE, Boise State
54. Buffalo Bills – Marlon Davidson, DL, Auburn
55. Baltimore Ravens (from New England through Atlanta) – Clyde Edwards-Helaire, RB, LSU
56. Miami Dolphins (from New Orleans) – Jordan Elliot, DL, Missouri
57. Los Angeles Rams (from Houston) – Michael Pittman Jr., WR, USC
58. Minnesota Vikings – Julian Okwara, DE, Notre Dame
59. Seattle Seahawks – Matt Hennessy, OL, Temple
60. Baltimore Ravens – Tyler Biadasz, OL, Wisconsin
61. Tennessee Titans – Justin Madubuike, DL, Texas A&M
62. Green Bay Packers – Cole Kmet, TE, Notre Dame
63. Kansas City Chiefs (from San Francisco) – Lloyd Cushenberry III, OL, LSU
64. Seattle Seahawks (from Kansas City) – Terrell Burgess, S, Utah