No Spring practices or games. No contact with coaches, players, trainers, or anyone related to the team. Only going through the playbook, working out on your own, and lots and lots of zoom meetings. And apparently, Alabama HC Nick Saban finally gave in to the materialism of the 21st century and sent his very first e-mail! How crazy is that? The highest paid college football coach at the perennial of college football has never used email until 2020. The world is really coming to an end.
This is the reality for not only the Big 12 but for the rest of College Football coaches and players alike across the nation. Players and coaches are limited in what they can do in order to prepare for next season. They are mostly confined to their homes. Except for Clemson HC Dabo Sweeney. That guy took his family to Florida in the midst of this pandemic and is reportedly planning to go back for the Easter holiday! Absolutely asinine.
College football seems to be headed on track to begin the season as scheduled. Of course, officials are preparing for that to not be the case with schedule makers looking at alternative dates. The highly touted college football analyst, Kirk Herbstreit, was quoted saying he would be "surprised" if we had any kind of football this coming fall to this COVID-19. I really do hope he is wrong.
I'm staying optimistic and preparing for this upcoming football season regardless of what everyone is saying! Here is the first official Big 12 football predictions of Top Shelf Takes!
1. Oklahoma Sooners
Here we are, again. For the past five (5) years, the Big 12 has gone through Oklahoma. And that's not going to change this year. HC Lincoln Riley has something going in Norman and it doesn't look like it is going to end anytime soon. The Sooners will be returning roughly eight (8) starters on offense and seven (7) starters on defense. Most of those starters on offense include Riley bringing back is entire offensive line to protect the highly anticipated new comer QB Spencer Rattler who looks to continue the success other Oklahoma QBs have had under Riley. The defense looks to compound on their major improvements from last season and to not be the one thing keeping the Sooners from the national championship game. DC Alex Grinch has done wonders with this defense and is eager to see a profit. The Sooners have a decent non-conference schedule with Tennessee coming to Norman in Week 2 and the Sooners traveling to Army in Week 3. Big 12 play will be more of a struggle as most of the Big 12 is returning key players.
Prediction: 11-1 (Play for Big 12 Title)
2. Texas Longhorns
I could easily see Mike Gundy and his Cowboys at this spot due to significant players choosing to come back, but I gotta go with Tom Herman and the Longhorns. They have too much to lose to not be great this season. And I suspect it could possibly happen. The Longhorns came off a disappointing 2019 season after having high expectations when they knocked off Georgia in the 2018 Sugar Bowl. QB Sam Ellinger chose to return for his Senior season in 2020 giving them a major edge above the rest of the Big 12. HC Tom Hermann has roughly nine (9) of his offensive starters and eight (8) of his defensive starters returning. There is no doubt in my mind that Herman is coaching for his job in 2020. He was seen as the guy who could officially ring in the now infamous saying "Texas is back." After going 25-15 during his tenure at Texas, he was officially on the hot seat. This could give Texas an edge and I think it definitely could. With an early matchup against defending national champion LSU, the Longhorns are looking at the game to determine how the rest of their season will go.
Prediction: 10-2 (Play for Big 12 Title)
3. Oklahoma State Cowboys
As I said earlier, Oklahoma State could easily be #2 on this list with the talent they have returning for the 2020 season. Of course, QB Spencer Sanders was on his way back only being a freshman last year, however, two of the more surprising returners are WR Tylan Wallace and RB Chuba Hubbard. Wallace was named All-Big 12 even though his production levels seemed to decrease as the season progressed. I feel that will change this year. Almost everyone, myself included, felt that Hubbard was out the door to the NFL Draft at the end of the 2019 season. He put on a monster show last season rushing for over 2,000 yards and winning Offensive Player of the Year in the Big 12. But he's back. And look for the Pokes to put up big numbers this year offensively. On the defensive side of the ball, the Cowboys return 10 starters and they are young. This could be a really good year for Gundy, who made some comments earlier this month that, regardless of whether they were right or wrong, received some backlash. I suspect this year could be a make-or-break year for Gundy as he has failed to win the Big 12 in almost ten (10) seasons.
Prediction: 10-2
4. Iowa State Cyclones
Outside of HC P.J. Fleck at Minnesota, HC Matt Campbell at Iowa State might be one of the most sought after head coaches in the nation by big time programs. And there is a huge reason for that. Campbell finds a way to get the most of the players the other schools didn't want and turn that into a winning formula. Yes, I along with many others felt that Iowa State did not meet expectations in 2019 thus turning in a disappointing season. However, it's hard to ever count out the Cyclones when they have Campbell leading their team. With QB Brock Purdy under center and a number of returning key starters coming back in 2020 which includes stud TE Charlie Kolar, I look for Iowa State to make a decent run in the Big 12 in hopes of catching one of the top dogs off on a Saturday afternoon in order to get to the Big 12 title game.
Prediction: 8-4
5. Baylor Bears
What the Baylor Bears did in 2019 was just short of a Cinderella story as they were knocked off in the Big 12 Title game. However, going in to 2020 the team will be without the one guy who made that Cinderella narrative come to live in former HC Matt Rhule as he prepares to take over the NFL's Carolina Panthers once this COVID-19 subsides. Because of that, and a few key playmakers on both sides of the ball heading to the NFL Draft, I suspect that this team will take a few steps back this 2020 season. That's not to say they couldn't catch a team off guard and provide a few upsets. And I am sure new HC Dave Armada, who just won the 2019 national championship as the DC with LSU, will be sure to get his team ready to play each and every week. With QB Charlie Brewer leading this offense and a defense that returns key playmakers, look for the Bears to make some noise in 2020.
Prediction: 8-4
6. TCU Horned Frogs
Gary Patterson and TCU will be interesting to watch in 2020. The Horned Frogs are losing some high value play makers to the 2020 in WR Jalen Reagor, DT Ross Blacklock, and CB Jeff Gladney. As well as Senior RB Darius Anderson to graduation. Fortunately for Patterson and Co., he has two stud DBs returning to help with the heavy Air Raid Big 12. Those two are Junior All-Big 12 Safety Trevon Moehrig Sophomore AR'Darius Washington who was awarded Defensive Freshman Of The Year in 2019. There is a reason HC Gary Patterson is regarded as one of the best coaches in all of college football. His teams come ready to play day in and day out regardless of who the opposing team is. I suspect TCU to be one of those middle of the pack teams for the Big 12 this year, looking for some quality upsets.
Prediction: 7-5
7. Kansas State Wildcats
The Kansas State Wildcats came off a season of ups and downs in 2019 as HC Chris Klieman took over a squad previously headed by legendary coach, Bill Snyder (Yes, their stadium is named after him). Ultimately, this squad posted an 8-5 record and was awarded a bowl berth. Not a bad start for a guy trying to coach in a stadium named after his predecessor. One of those ups came in early October as the Wildcats upset the nationally ranked Oklahoma Sooners. Unfortunately, KState has a good handful of players they are losing on both sides of the ball this coming season. With the Big 12 only getting stronger and better across the board each passing year, it is extremely important that teams fill those gaps when players get drafted, graduate, or transfer. And, their road schedule is horrendous having a total of five of their nine last games on the road. The good news for the Wildcats is they could open some eyes with a few surprise wins and, honestly, they have nothing to lose.
Prediction: 5-6
8. West Virginia Mountaineers
West Virginia was another team coming into the 2019 season with a new head coach in Neal Brown who previously served as the HC at Troy. Expectations surrounding the Mountaineer's 2019 season were fairly low considering the the success they have had since joining the Big 12 in 2012. Also, they have a number of key positions left up for grabs with players graduating. Luckily for the Neal Brown and Co., they have a few things going for them heading in 2020. 1. They have a fresh crop of young guys who Brown can work with and start implementing his schemes. Two of those players were named to All-Big 12 teams. 2. They have a favorable schedule where they always play a team that is NOT coming off a bye week. These two things could be the beginning of a recipe of upsets. Could they pull one off against Florida State in Week 1? I think they can
Prediction: 4-8
9. Texas Tech Red Raiders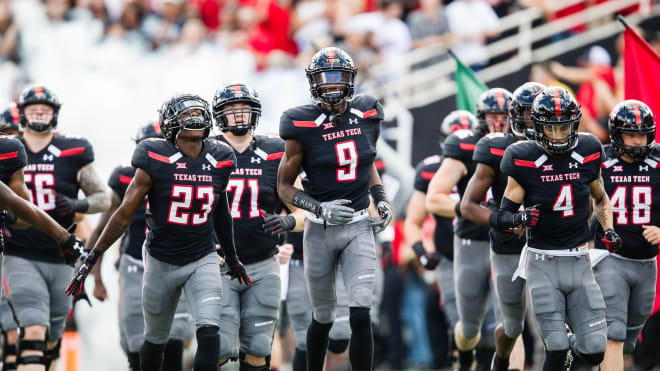 How Texas Tech produced a player like Patrick Mahomes is beyond me. I'm sure they would love for even someone like Michael Crabtree. Anyway, the Red Raiders were under new management in 2019 as former HC Cliff Kingsbury decided to take off to the NFL. HC Matt Wells looks to prove some doubters, myself included, wrong with his below average squad in 2020. I mean, they were the only school to lose to Kansas last year in the Big 12. That's something you never want to be in this day and age. So, I guess they can go pretty much no where but up. The Red Raiders schedule this season proves some hopeful targets of an upset, however, that is going to be a tall task for a struggling team who has yet to find its niche in the Big 12.
Prediction: 3-9
10. Kansas Jayhawks
Last but not least, we have the Kansas Jayhawks. One of college football's greatest coaches to ever coach the game decided, for some reason, that he would like to coach the Kansas Jayhawks football team in 2019. Lord knows why because I haven't got a clue. Regardless, if there is a guy who could possibly turn things around, it's Les Miles. Kansas finished dead last in the Big 12 in 2019. However, they did raise some eyebrows with some of their players earning All-Big 12 honors and a few surprising wins. It's hard to predict them doing more of that with some of their players they are losing in 2020 as well as a pretty harsh schedule with some nationally-ranked matchups. Maybe that have some reinforcements and Miles has some magic up his sleeve? Only time will tell. Until then, we long for the days when Kansas was playing out of their minds in 2007 and vying for a punch at the National Championship.
Prediction: 2-10