It is officially the month of April. Right now, we should be engulfed in upcoming Final Four match-ups of the NCAA Men's Basketball Tournament, the NBA regular season winding down and getting ready post(choke)season for LeBron except 2016, and the best golf tournament in the history of mankind, the Masters.
All of those things are not happening this month. We have to wait another year for March Madness, the Masters may not happen until the end of summer, and who knows when the NBA will come back. Same goes for NHL. I knew all along that when the NHL cancelled their season, this was serious. There is not a whole lot to look forward to other than *cue Monday Night Football Music* the NFL Draft!
Over the weekend, President Trump met with the heads of all professional sports to discuss a timetable of when to expect their respective seasons to resume and a plan of action to go about in helping to get these sports back on track in a bad economic situation. The President also expressed hopefulness in having the NFL start on schedule. As reported by others, it appears the NFL will try to conduct the Draft virtually via Zoom April 23-25. No coaches, GMs, league officials, etc. will be in the same room. Of course, this is unprecedented and is very, very risky. Ultimately, it's just awkward. This will literally be the same as being on FaceTime during a Fantasy draft with the boys. I just don't see how this won't be cringe worthy. I can only see this as being a bunch of old men on FaceTime, double chin and all, bad lighting from their basement, a couple of helmets in the background, and a good handful of them are plastered doing this. It's bound to happen. But hey, the Draft is happening, that's all that matters. It will be interesting to see how the NFL prepares for this and what measures of precaution they will take to make sure it flows smoothly and no one hacks in to send Joe Burrow to the Patriots or flash pictures of porn.
Anyway, just like in Mock Draft 2.0, this one will not have trades. But trade speculations will be mentioned. Team needs are updated post free agency moves. This one will also included 3 rounds and the compensatory picks. Let's get to the Mock Draft 2.0 presented by the Boss himself!
Cincinnati Bengals
The Pick: Joe Burrow, QB, LSU
Year: Senior (RS) || 6'4″ / 221 lbs.
Why: Unless something changes via trade or free agency, Cincinnati goes with their future and picks their next franchise QB. The Bengals still have former starter Andy Dalton on the roster, but this team made moves in free agency that dictate they are ready to start rebuilding and make moves to get back into playoff contention.
Team Needs: QB, OL, LB
2. Washington Redskins
The Pick: Chase Young, EDGE, Ohio State
Year: Junior || 6'5″ / 264 lbs.
Why: The Redskins have been rumored to possibly taking a QB with this pick as mentioned in Mock Draft 2.0. However, with Ron Rivera as HC and Jack Del Rio at DC, I feel they go after the best player in this year's Draft to rebuild this lowly ranked defense. It will be interesting to see how this pick is affected by the Trent Williams saga. Look for the Redskins to entertain trading down as well.
Team Needs: EDGE, WR, OL
3. Detroit Lions
The Pick: Jeff Okudah, CB, Ohio State
Year: Junior || 6'1″ / 205 lbs.
Why: Detroit has also been rumored to be a team looking for a potential trade down to acquire more picks. This looks to be the final year for HC Matt Patricia's experiment in implementing the "Patriot Way" in this underperforming team. With the Lions losing All-Pro CB Darius Slay to free agency, they find his replacement who will be a Day 1 starter. Patricia survives another day.
Team Needs: EDGE, CB, OL
4. New York Giants
The Pick: Jedrick Wills, OT, Alabama
Year: Junior || 6'4″ / 312 lbs.
Why: I previously had GM Dave Gettleman selecting the do-everthing, Swiss Army knife, LB Isaiah Simmons in my Mock Draft 2.0. Now, with a change of heart, I have the Giants selecting the most pro-ready, Day 1 starter OT in this year's draft class. Protecting QB Danny "Dimes" Jones and opening up holes for RB Saquon Barkley has to be #1 priority in the Giants' virtual war room with this pick in the Draft. Wills is the guy who can do both for them.
Team Needs: OT, EDGE, CB
5. Miami Dolphins
The Pick: Justin Herbert, QB, Oregon
Year: Senior || 6'6″ / 227 lbs.
Why: I think with Miami's one of three first round picks, they go with the MVP of the Senior Bowl. There are some concerns with Herbert's accuracy that seemed to become less of a worry after his MVP performance in the Senior Bowl. Tua might have come out and said he his ready now, this month, but from other sources, it appears GMs around the league are still concerned about his health. Miami takes the safer bet and drafts Herbert as the QB for their future. I wouldn't be surprised if Miami tries to jump to the top of the Draft to get their QB.
Team Needs: QB, OL, S
6. Los Angeles Chargers
The Pick: Tua Tagovaila, QB, Alabama
Year: Junior || 6'0″ / 217 lbs.
Why: So, it looks as if the Chargers are in the lead to get the 2015 MVP QB Cam Newton after he was released by Carolina. They also have QB Tyrod Taylor as #1 on their depth chart. Either way, they feel comfortable enough to draft Tua here at #6, let him sit and learn, and not rush him to get out onto the field. This offense would thrive with Tua under center and can hopefully help them compete for the division in the future. Drafting an OT would be ideal, but I'm not sold the Chargers pass on a potential franchise QB.
Team Needs: QB, OT, WR
7. Carolina Panthers
The Pick: Isaiah Simmons, LB, Clemson
Year: Junior || 6'4″ / 238 lbs.
Why: The Panthers could go with a QB. New HC, new OC, they released Cam Newton. They also got QB Teddy Bridgewater in free agency to help buy some time while they look for a future QB and still be competitive. However, I do not feel the rest of the QBs in this draft are worthy of a top ten pick and so do the Panthers. Simmons is arguably the most dynamic player in this year's draft class having spent multiple snaps at LB, CB, SS, and FS. Look for Carolina to also potentially become a trade partner to acquire more picks.
Team Needs: DT, LB, TE
8. Arizona Cardinals
The Pick: Mekhi Becton, OT, Louisville
Year: Junior || 6'7″ / 364 lbs.
Why: There are rumors circulating whether or not GM Steve Keim and HC Cliff Kingsbury will try to get budding QB Kyler Murray another weapon from this year's deep WR class. They added to the arsenal when they traded for Pro-Bowler DeAndre Hopkins. With the Cardinals going up against the likes of DT Aaron Donald, DE Nick Bosa, DT Arik Armstead, and possibly DT Jadeveon Clowney twice a year, they need to protect their franchise QB as much as possible. They draft the biggest OT who blew everyone's socks off with his raw athleticism at the combine. Huge ceiling for this young man.
Team Needs: OT, WR, CB
9. Jacksonville Jaguars
The Pick: Derrick Brown, DT, Auburn
Year: Senior || 6'5″ / 326 lbs.
Why: Jacksonville has question marks all over the field as Doug Marrone is looks to be coaching for his job this year. Having one of the best playmakers on the defensive side of the ball in Brown wouldn't be a bad fit. After losing All-Pro Calais Campbell to free agency, the Jaguars look to find another big man to help strengthen the defensive front.
Team Needs: DL, OL, CB
10. Cleveland Browns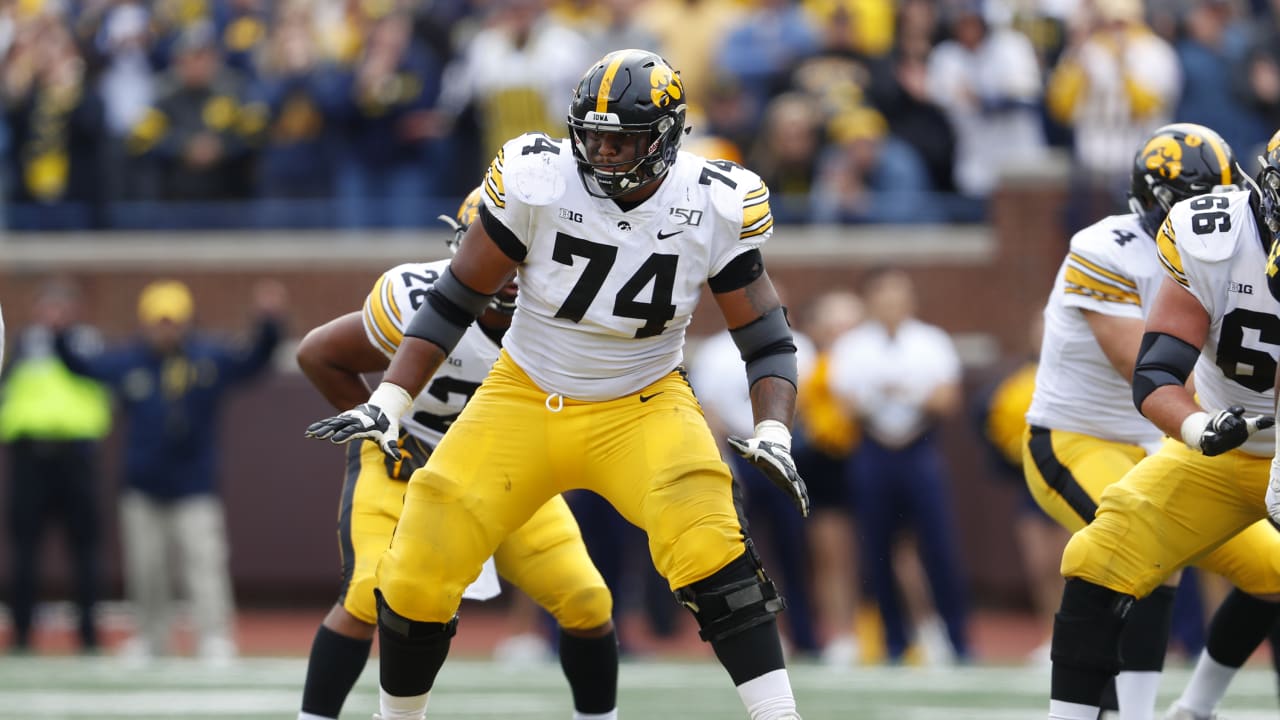 The Pick: Tristan Wirfs, OT, Iowa
Year: Junior || 6'5″ / 320 lbs.
Why: New GM Andrew Berry and HC Kevin Stefanski made some big splashes in free agency by adding All-Pro TE Austin Hooper and All-Pro OT Jack Conklin to help the offense find its rhythm in 2020. While Conklin can solidify the right side of the offensive front, I feel the left side still needs to be addressed. Could the Browns go after OT Trent Williams? Yes, I believe so. However, I do not believe they will try it and stick with picking their future LT in this year's deep OT class. Wirfs can solidify QB Baker Mayfield's blindside and hopefully help the Browns to the playoffs.
Team Needs: OT, LB, S
11. New York Jets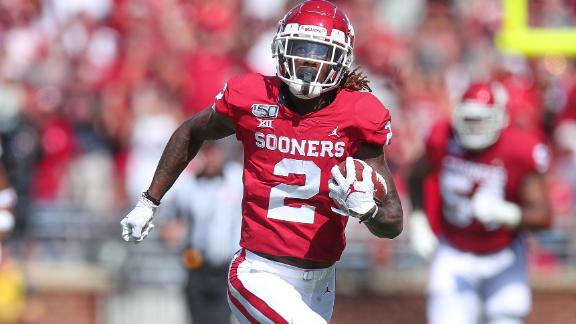 The Pick: CeeDee Lamb, WR, Oklahoma
Year: Junior || 6'2″ / 198 lbs.
Why: The Jets could use this pick to get a OT to help protect QB Sam Darnold has he goes into his third year. Unfortunately, the only real outside threat the Jets have offensively is WR Breshard Perriman. Not exactly exciting heading into what could be essentially be a make or break season. After losing, WR Robby Anderson to free agency, the Jets look to replace him with the best WR in this class in CeeDee Lamb. A dynamic playmaker who could help bring Sam Darnold's game to a new level.
Team Needs: WR, OL, CB
12. Las Vegas Raiders
The Pick: Jerry Jeudy, WR, Alabama
Year: Junior || 6'1″ / 193 lbs.
Why: The Raiders are in need of a WR to be paired with 2019's WR1, Tyrell Williams. Jeudy is the one guy in here who might have the shortest ceiling for potential, but he has the highest floor. Basically, he is a WR who can come into Jon Gruden's offense and make an immediate impact because of his superb combination of route running and speed as well as his big play-making ability. Vegas will love Jeudy.
Team Needs: CB, WR, OL
13. San Francisco 49ers (from Indianapolis)
The Pick: Javon Kinlaw, EDGE, South Carolina
Year: Junior || 6'5″ / 324 lbs.
Why: The 49ers traded away DT DeForest Buckner to the Colts to now have two first round picks. Not such a bad deal. With this pick, they could easily go after the best receiver to help replace departing WR Emmanuel Sanders. However, I think they go after a guy who plays like a "man among boys" and make the 49er defensive the best in the League. This receiver class is deep and one could be available with their 31st pick.
Team Needs: WR, CB, OL
14. Tampa Bay Buccaneers
The Pick: Andrew Thomas, OT, Georgia
Year: Junior || 6'5″ / 315 lbs.
Why: Tom Brady is now a Tampa Bay Buccaneer. That sounds so weird and not right. I hate it. Tampa Bay's first priority with this Draft is to find him protection. He already has plenty of weapons at his disposal but will be useless if he's on the ground most of the game. Thomas is one of those guys who could be drafted higher depending on a GM's preference. But for now, this Day 1 ready OT is going to get the job done for Mr. Brady.
Team Needs: OT, S, RB
15. Denver Broncos
The Pick: Henry Ruggs III, WR, Alabama
Year: Junior || 6'0″ / 190 lbs.
Why: The Broncos and Elway seem solidified on QB Drew Lock as their starter. With TE Noah Fant and WR Courtland Sutton having better-than-expected seasons in 2019, look for Elway to draft the best available receiver in speedster Ruggs. The guy ran a 4.27 40 at the combine which easily translates to on field production.
Team Needs: WR, OL, CB
16. Atlanta Falcons
The Pick: K'Lavon Chaisson, OLB, LSU
Year: Sophomore (RS) || 6'3″ / 254 lbs.
Why: The Falcons could go either or in selecting a defensive back or edge rusher. They added OLB Dante Fowler Jr. during free agency and pairing Chaisson with Fowler has to be a dream come true for HC Dan Quinn. The Falcons are looking to make some major improvements across the field and get to the playoffs. Adding Chaisson to that equation helps their chances immensely.
Team Needs: EDGE, CB, LB
17. Dallas Cowboys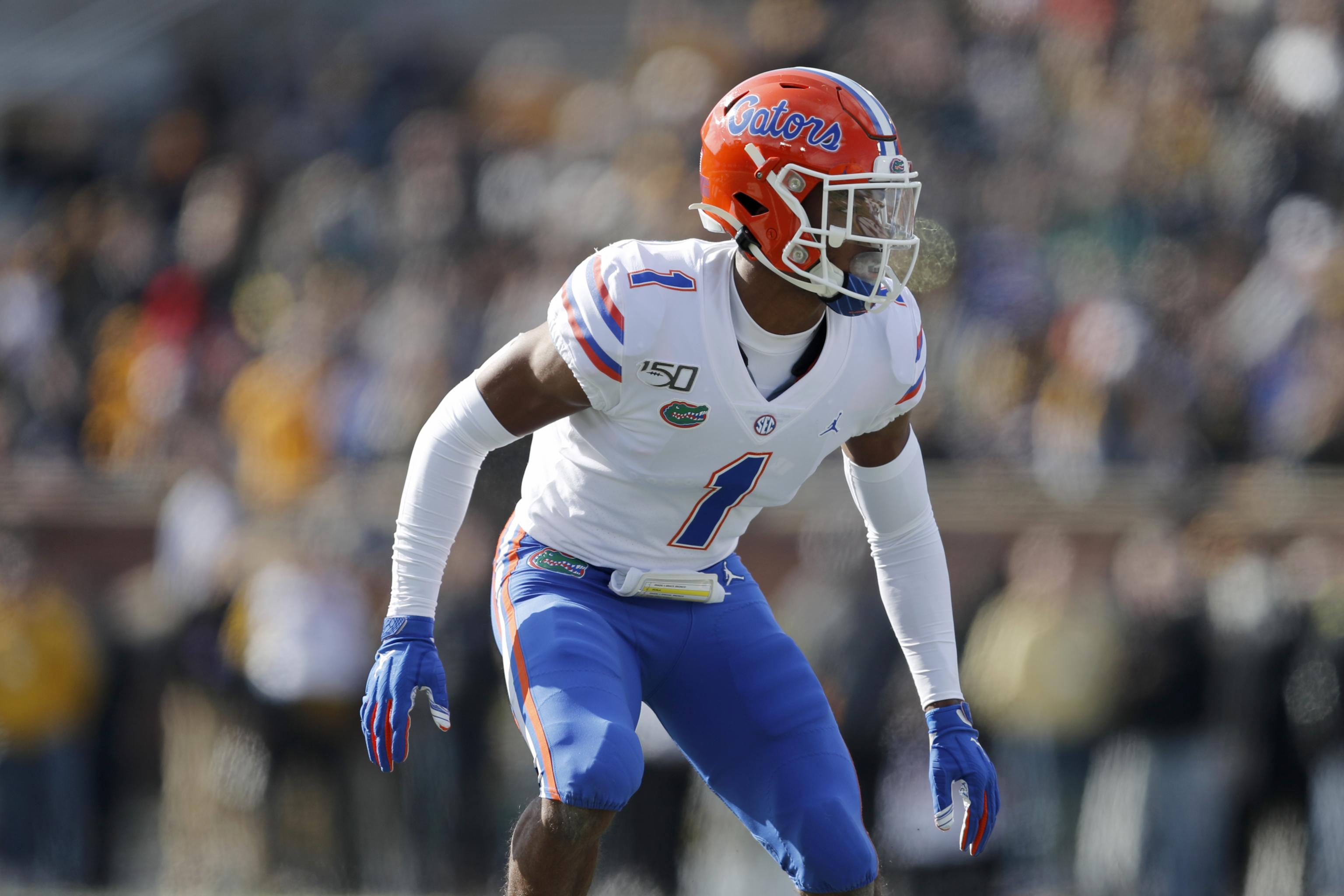 The Pick: CJ Henderson, CB, Florida
Year: Junior || 6'1″ / 204 lbs.
Why: Jerry Jones wasn't able to sign All-Pro CB Byron Jones after signing both QB Dak Prescott and WR Amari Cooper leaving a hole on the defensive side of the ball. The Cowboys made some big moves in free agency and under new HC Mike McCarthy, they are looking at winning the NFC East. Henderson can come in and be a Day 1 starter on a Cowboys revamped defense.
Team Needs: CB, EDGE, WR
18. Miami Dolphins (from Pittsburgh)
The Pick: Xavier McKinney, S, Alabama
Year: Junior || 6'0″ / 201 lbs.
Why: The Dolphins drafted their potential franchise QB in Justin Herbert with the 5th pick. Along with some major free agency additions, Miami just gets better with their second first-round pick. McKinney could be the General of the Dolphins secondary and make big plays in a division that seems to be up-in-the-air after the losses the Patriots took in free agency. Miami knocks out two of their top three needs with this pick.
Team Needs: QB, OL, S
19. Las Vegas Raiders (from Chicago)
The Pick: Kristian Fulton, CB, LSU
Year: Senior || 6'0″ / 197 lbs.
Why: The Raider addressed one side of the ball with the 12th pick, now they address the other side here at 19. After making numerous upgrades across the board during free agency, the Raiders look to draft a lock-down corner in Fulton who can stop the numerous weapons of the AFC West.
Team Needs: CB, WR, OL
20. Jacksonville Jaguars (from Los Angeles Rams)
The Pick: Josh Jones, OT, Houston
Year: Senior || 6'5″ / 319 lbs.
Why: Doug Marrone and the Jaguars understand that games are won and lost in the trenches. With the 9th pick, they drafted a guy who could stop the run and rush the passer. With this pick, they draft a guy who could protect QB Gardner Minshew. The Jaguars success will depend upon how well Minshew performs and to make that certain, they have to keep him off the ground at all costs.
Team Needs: DL, OL, CB
21. Philadelphia Eagles
The Pick: Justin Jefferson, WR, LSU
Year: Junior || 6'1″ / 201 lbs.
Why: Justin Jefferson had over 1,500 receiving yards and 18 TDs on 111 receptions last year. And he's the fourth best receiver in this class. That's how deep this WR class can be. The Eagles struggled to get the ball rolling on offense throughout the 2019 campaign. With Nelson Agholor and others departing in free agency, a revamped Philly receiving corp could be what gets QB Carson Wentz over the hump into the elite conversation.
Team Needs: WR, LB, DL
22. Minnesota Vikings (from Buffalo)
The Pick: Jeff Gladney, CB, TCU
Year: Senior || 5'10" / 191 lbs.
Why: The Vikings get this pick from Buffalo after trading away star WR Stefon Diggs. Mike Zimmer and Co. did not have a very good off season after losing much of their talent to free agency. They could easily go for a WR here to help plug in an offense that started to click last season. However, there are bigger holes to fill on the defensive side of the ball and starts in the secondary. And there is a good chance they can pick up another starting WR in the later rounds. Gladney can come and be a Day 1 starter for a team that lost both CB Xavier Rhodes and Tre Waynes.
Team Needs: CB, WR, DL
23. New England Patriots
The Pick: A.J. Epenesa, EDGE, Iowa
Year: Junior || 6'6″ / 280 lbs.
Why: The Patriots will be looking for a new identity when the 2020 season begins. 20-year veteran QB Tom Brady is gone. Numerous other pieces on both sides of the ball are gone. Pretty much everyone is counting the Patriots out. However, I will always believe that HC Bill Belichick has something up his sleeve. Sure, they could draft a new QB or trade this pick to get a veteran. If there is one thing that the Patriots have taught us is that they build around their defense. They rarely acquire skill offensive players early in the Draft. Epenesa can come in and help a defensive line that saw OLB Kyle Van Noy and DT Danny Shelton walk in free agency.
Team Needs: EDGE, QB, WR
24. New Orleans Saints
The Pick: Jordan Love, QB, Utah State
Year: Junior || 6'4″ / 224 lbs.
Why: QB Drew Brees signed up for one more year in NOLA before retiring and waiting for his name to be called for the Hall of Fame in Canton. The Saints could go a few directions with this pick. They have a good core group in the secondary on the defensive side of the ball but I feel they could wait to draft someone as a back up if they really need to. It is time for the Saints to prepare for the future and draft a guy to sit and watch one of the greatest QBs of all time work his magic.
Team Needs: QB, CB, WR
25. Minnesota Vikings
The Pick: Yetur Gross-Matos, EDGE, Penn State
Year: Junior || 6'5″ / 266 lbs.
Why: The Vikings will be tempted to grab a WR with their second pick this round. However, they remember they lost both EDGE Everson Griffen and DT Linval Joseph this off-season. Not to mention this defensive front got absolutely man handled against the 49ers in the 2019 playoffs. The Vikings hold off on a WR and pick a big a EDGE rusher who can peel his ears back and get after opposing team's QBs.
Team Needs: CB, WR, DL
26. Miami Dolphins (from Houston)
The Pick: Austin Jackson, OT, USC
Year: Junior || 6'5″ / 322 lbs.
Why: The Dolphins are now seeing the effects of this deep OT class as they look for someone to protect their investment in QB Justin Herbert. I could see the Dolphins trading up for an OT but for now, they sit back and let Jackson fall into their lap meeting their top 3 needs of this Draft.
Team Needs: QB, OT, S
27. Seattle Seahawks
The Pick: Cesar Ruiz, IOL, Michigan
Year: Junior || 6'3″ / 307 lbs.
Why: QB Russell Wilson has been pressured more than any other QB in the NFL per various reports. Solidifying this offensive line and adding protection for one of the greatest play-makers in the NFL has to be top priority for Pete Carroll and company heading into this Draft. Assuming they can keep the defense where it needs to be, the Seahawks should look to strengthen their offensive trenches to stay competitive in the rising NFC West.
Team Needs: OL, DL, CB
28. Baltimore Ravens
The Pick: Kenneth Murray, LB, Oklahoma
Year: Junior || 6'3″ / 241 lbs.
Why: Baltimore made huge strides last year under second-year QB Lamar Jackson and one of the most explosive offenses in the country garnering the #1 seed in the 2019 playoffs. That defense was no slouch either having a few players named to the Pro-Bowl. With an exciting free agency, look for the Ravens to be back in the talk for the 2020 Super Bowl. Murray is one of those guys who could fit well on multiple teams. Some drafts don't even have him making it this far down. A guy who has a nose for the football, tremendous athletic ability, and great leadership qualities, look for the Ravens to select their next defensive quarterback.
Team Needs: LB, OL, WR
29. Tennessee Titans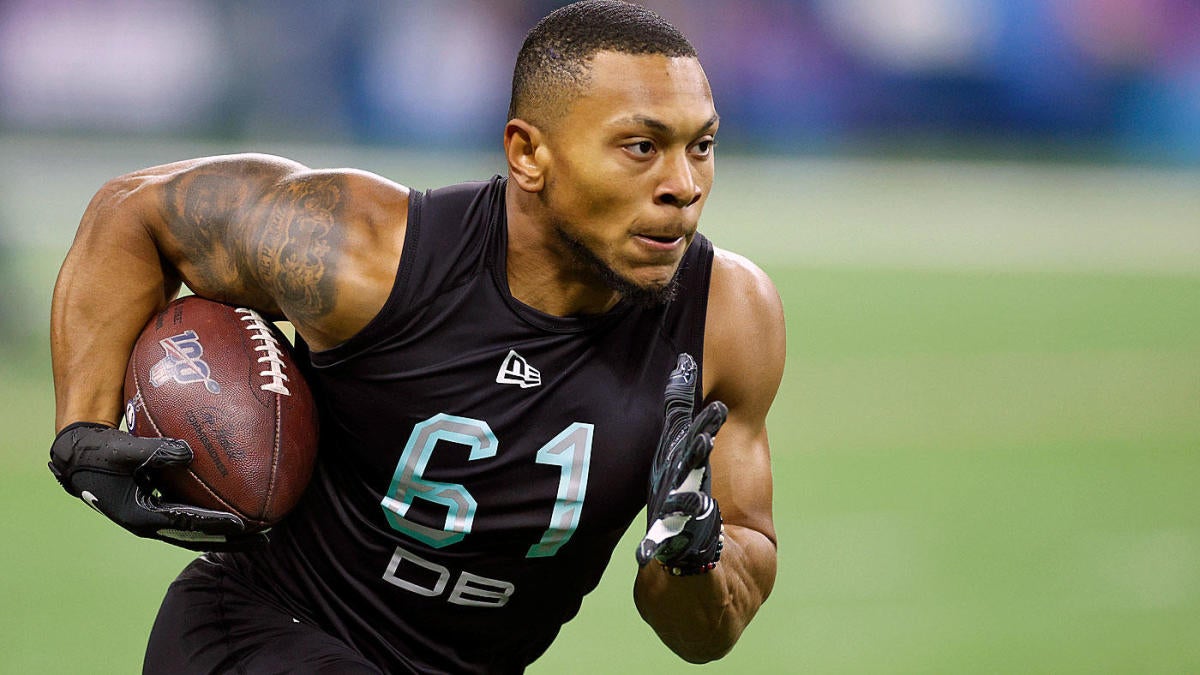 The Pick: Antoine Winfield Jr., S/CB, Minnesota
Year: Sophomore (RS) || 5'9″ / 203 lbs.
Why: Tennessee locked down both QB Ryan Tannehill and RB Derrick Henry after an impressive 2019 playoff run that ended in Kansas City in the AFC Championship game. However, they lost OT Jack Conklin and are more than likely going to lose S Logan Ryan. While they made some key acquisitions in free agency, there is still plenty of room to improve across the board. I feel that HC Mike Vrabel will love having a ball hawking safety who plays his heart out every single possession. Some might Winfield Jr. lower, but this guy his truly impressive to watch.
Team Needs: EDGE, CB, OT
30. Green Bay Packers
The Pick: Tee Higgins, WR, Clemson
Year: Junior || 6'4″ / 216 lbs.
Why: The Packers acquired WR Devon Funchess from the Colts in free agency. However, they still need to get QB Aaron Rodgers more weapons if they are going to compound on their 2019 NFC Championship game appearance. Higgins is a big body WR that can be a huge target for Rodgers downfield as Green Bay looks to spread the field and let Rodgers sit back and pick defenses apart.
Team Needs: WR, LB, TE
31. San Francisco 49ers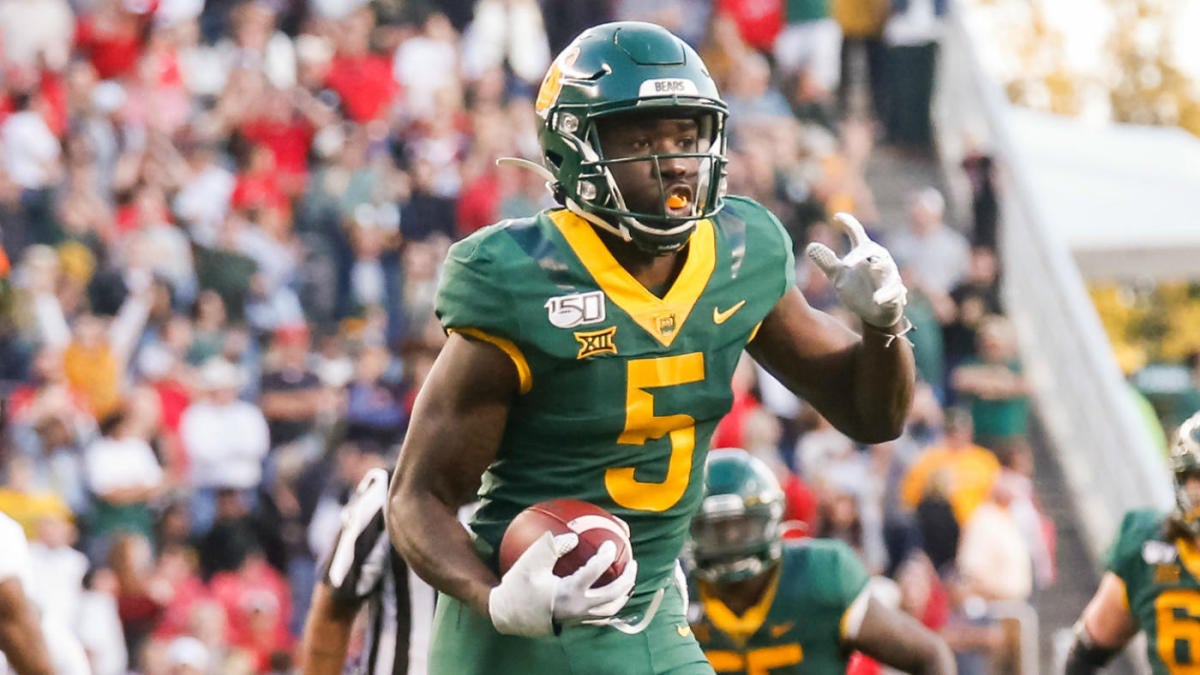 The Pick: Denzel Mims, WR, Baylor
Year: Senior || 6'3″ / 207 lbs.
Why: With the 13th pick, the 49ers found their replacement for DT DeForest Buckner. And now they waited long enough to find a replacement for WR Emmanuel Sanders. Mims has been an under the radar guy through this whole draft process, but his play-making ability has made him another sought after receiver in this draft. Look for Shanahan to utilize Mims as WR2 who can make big plays with his size downfield.
Team Needs: WR, CB, OL
32. Kansas City Chiefs
The Pick: Patrick Queen, LB, LSU
Year: Junior || 6'0″ / 229 lbs.
Why: The Chiefs pretty much have every position set for another Super Bowl run in 2020. It was pretty evident when they had literally zero money left to spend in free agency. Solidifying their LB position shouldn't be too difficult with this LB class. Queen is another hard nosed LB who can find his way to the football and make big plays.
Team Needs: LB, CB, EDGE
Round 2
33. Cincinnati Bengals – Zach Baun, LB, Wisconsin
34. Indianapolis Colts (from Washington) – Jalen Reagor, WR, TCU
35. Detroit Lions – Curtis Weaver, EDGE, Boise State
36. New York Giants – Julian Okwara, EDGE, Notre Dame
37. Los Angeles Chargers – Ezra Cleveland, OT, Boise State
38. Carolina Panthers – Trevon Diggs, CB, Alabama
39. Miami Dolphins – D'Andre Swift, RB, Georgia
40. Houston Texans (from Arizona) – Laviska Shenault Jr., WR, Colorado
41. Cleveland Browns – Grant Delpit, S, LSU
42. Jacksonville Jaguars – A.J. Terrell, CB, Clemson
43. Chicago Bears (Las Vegas Raiders) – Jeremy Chinn, S, Southern Illinois
44. Indianapolis Colts – Jaylon Johnson, CB, Utah
45. Tampa Bay Buccaneers – Jacob Eason, QB, Washington
46. Denver Broncos – Ross Blacklock, DT, TCU
47. Atlanta Falcons – Damon Arnette, CB, Ohio State
48. New York Jets – Marlon Davidson, EDGE, Auburn
49. Pittsburgh Steelers – Netane Muti, OG, Fresno State
50. Chicago Bears – Isaiah Wilson, OT, Georgia
51. Dallas Cowboys – Brandon Aiyuk, WR, Arizona State
52. Los Angeles Rams – Terrell Lewis, LB, Alabama
53. Philadelphia Eagles – Jordyn Brooks, LB, Texas Tech
54. Buffalo Bills – Jonathan Greenard, LB, Florida
55. Baltimore Ravens (from New England from Atlanta) – Shane Lemieux, OG, Oregon
56. Miami Dolphins (from New Orleans) – Tyler Biadasz, OC, Tyler Biadasz
57. Houston Texans – Jonathan Taylor, RB, Wisconsin
58. Minnesota Vikings – Chase Claypool, WR, Notre Dame
59. Seattle Seahawks – Neville Gallimore, DT, Oklahoma
60. Baltimore Ravens – K.J. Hamler, WR, Penn State
61. Tennessee Titans – Justin Madubuike, DT, Texas A&M
62. Green Bay Packers – Cole Kmet, TE, Notre Dame
63. Kansas City Chiefs (from San Francisco) – Bryce Hall, CB, Virginia
64. San Francisco (from Kansas City) – Prince Tega Wanogho, DT, Auburn
Round 3
65. Cincinnati Bengals – Lucas Niang, OT, TCU
66. Washington Redskins – Hakeem Adenji, OT, Kansas
67. Detroit Lions – Robert Hunt, OG, Louisiana-Lafayette
68. New York Jets (from New York Giants) – Raekwon Davis, DT, Alabama
69. Carolina Panthers – Anfernee Jennings, EDGE, Alabama
70. Miami Dolphins – Bradlee Anae, EDGE, Utah
71. Los Angeles Chargers – J.K. Dobbins, RB, Ohio State
72. Arizona Cardinals – Clyde Edwards-Helaire, RB, LSU
73. Jacksonville Jaguars – Malik Harrison, LB, Ohio State
74. Cleveland Browns – Logan Wilson, LB, Wyoming
75. Indianapolis Colts – Willie Gay Jr., LB, Mississippi State
76. Tampa Bay Buccaneers – Kyle Dugger, S, Lenoir Rhyne
77. Denver Broncos – Cameron Dantzler, CB, Mississippi
78. Atlanta Falcons – Jabari Zuniga, EDGE, Florida
79. New York Jets – Noah Igbinoghene, CB, Auburn
80. Las Vegas Raiders – Jalen Hurts, QB, Oklahoma
81. Las Vegas Raiders (from Chicago) – Rashard Lawrence, DT, LSU
82. Dallas Cowboys – Hunter Bryant, TE, Washington
83. Denver Broncos (from Pittsburgh) – Troy Dye, LB, Oregon
84. Los Angeles Rams – Cam Akers, RB, Florida State
85. Detroit Lions (from Philadelphia) – Donovan Peoples-Jones, WR, Michigan
86. Buffalo Bills – Damien Lewis, OG, LSU
87. New England Patriots – Tyler Johnson, WR, Minnesota
88. New Orleans Saints – Troy Pride Jr., CB, Notre Dame
89. Minnesota Vikings – Albert Okwuegbunam, TE, Missouri
90. Houston Texans – Ashtyn Davis, S, California
91. Las Vegas Raiders (from Seattle) – Bryan Edwards, WR, South Carolina
92. Baltimore Ravens – Terrell Burgess, S, Utah
93. Tennessee Titans – Jonah Jackson, OG, Ohio State
94. Green Bay Packers – Markus Bailey, LB, Purdue
95. Denver Broncos (from San Francisco) – Alton Robinson, EDGE, Syracuse
96. Kansas City Chiefs – Kenny Willekes, EDGE, Michigan State
97. Cleveland Browns (from Houston)* – Joshua Uche, LB, Michigan
98. New England Patriots* – Darrell Taylor, LB, Tennessee
99. New York Giants* – Brandon Jones, S, Texas
100. New England Patriots* – Nick Harris, C, Washington
101. Seattle Seahawks* – Michael Pittman Jr., WR, USC
102. Pittsburgh Steelers* – A.J. Dillon, RB, Boston College
103. Philadelphia Eagles* – Alex Highsmith, DE, Charlotte
104. Los Angeles Rams* – Davon Hamilton, DT, Ohio State
105. Minnesota Vikings* – Ben Bredeson, OG, Michigan
106. Baltimore Ravens* – Jordan Elliot, DT, Missouri
*denotes a supplementary draft pick