With the month of March coming to an end and the world still trying to get back on its feet after being knocked out by the COVID-19 (coronavirus), I find myself reminiscing of what I typically do this time of year…ripping my bracket to shreds and enjoying the basketball chaos courtesy of March Madness.
For most of you who follow me on Twitter (@TopShelfBoss in case you don't) you know that I do a "This Day in History" segment every single day. I am a huge history guy. I could come across something that resembles history in any way shape or form and I am intrigued to say the least. Where I am most intrigued is when you combine history with sports. Since gaining unlimited access to all the 30 for 30 documentary films through my ESPN+ account, I can say I am probably one of only a handful of people to have watched all of the films. ALL. OF. THEM.
March is here, the greatest basketball time of the year, and with my complete devotion to relish in every facet of sports history, it's only natural that I give you the 10 best moments of the March Madness tournament on this take of the "Best of the Best: March Madness Edition." We have Cinderella stories, Davids vs Goliaths, and, of course heartbreak. So sit back, relax, and reminisce!
P.S. Keep in mind the NCAA didn't implement the 3 point line until 1986. Think about how some of these match ups would have changed.
10. The Shot That Would Have Made Everyone Happy (2010)
Brad Stevens. Gordon Hayward. Butler Basketball. All those things you will hear whenever you tune into a Celtics game. But not 10 years ago when they almost took down the tyrannical Duke Blue Devils on a last second desperation heave by Hayward. This was one of the first times ever that a small school team would emerge onto the national stage, get buckets, and break hearts all the way to the championship game. This should have been epic, iconic, and a sweet sweet victory for the whole basketball world. But it wasn't and here we are. Butler made it back to the national championship the next year only to give us the most boring game of all time.
9. The Ultimate Bracket Buster (2018)
To this day, I still couldn't tell you 100% for sure what UMBC stands for. In fact, I would definitely just Google it. But that doesn't change the fact Virginia's slow paced game, the most annoying basketball team, bit them in the butt when they became the first 1-seed to lose to a 16th seed. Prior to that game, 16 seeds were 0-135. Virginia found a way to really mess those odds up and literally get blown out. UMBC might not even be a school anymore. We don't know. But we do know they pissed everyone off and caused me to never look at a bracket the same.
8. This Nun Has Secret Powers (2018)
Who would have thought a small Catholic school in the Missouri Valley Conference would make the Final Four? Jesus did. And so did Sister Jean. Sure, we've seen other low seeds make it this far such as Wichita State and George Mason. But those teams didn't have Sister Jean as their secret weapon. This team made last second shots to beat both Tennessee and Miami before making it to the Final Four. There can only be one explanation, the 98 year old (now 100) Nun sitting in the wheelchair at the end of the court. Truly, one of the greatest stories.
7. Christian Laettner Becomes the Most Hated Player Ever (1992)
ESPN and 30 for 30 decided to make a whole documentary film about this guy. An excellent college player who couldn't hack it in the NBA, sat on the bench for the 1992 Olympic Team (Dream Team), and had dirty urine a few times. Surely, you've heard a few players like that. I know I have. Well, none of those players carried around the stigma associated with Christian Laettner. EVERYONE hated this guy. I wasn't even thought of when he left Duke and I get annoyed just watching him. His fate in college basketball history was sealed with this shot. The dagger into Kentucky's heart that still remains today. Fans even made "I Hate Christian Laettner" shirts.
6. The Real David and Goliath of Coaches Edition (1985)
The reigning champs, Georgetown, were led by 7'0 giant in the paint (Patrick Ewing) and an even bigger one on the sideline with a towel on his shoulder (John Thompson). Their opponents were conference rivals in the newly founded Big East, and led by a short, fat Italian (Rollie Massimino) who liked a house full of people and even bigger plate of spaghetti…Villanova. This team shot 78% from the floor, won by 2, and became the lowest seed to win the Tournament at that point. No one can name a player from that team, today.
5. The Legend of the GOAT is Born (1982)
The GOAT. His Airness. Air Jordan. It all had to start in one place so why not the shot to win the 1982 National Championship? This game featured two of the best freshman to go head to head. The 7'0″ giant who blocked everything that came near the rim and the freshman phenom who is the greatest competitor sports has ever seen. Was truly a match up I would have loved to see today. Especially with no 3 point line. What a perfect way for MJ to begin his reign of terror.
4. Texas Western Gives a Middle Finger to Jim Crow (1966)
This team was about more than basketball. They used basketball to convey a message that would make an everlasting impression. The 1966 Mighty Miners were the first team to start an all-black lineup against Adolph Rupp's Kentucky powerhouse (Pat Riley was on this team). Rupp initially came up and said he would never recruit a non-white player. So this victory by Texas Western (now UTEP) was the ultimate middle finger.
3. The Day My Heart was Ripped Out of My Chest (2016)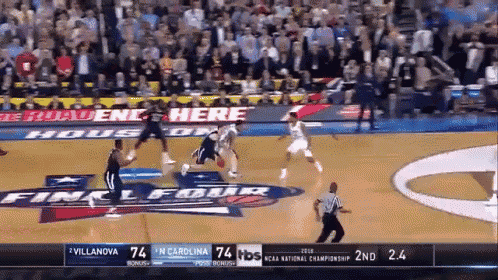 I become physically ill whenever I watch this shot. My heart was broken in half. The great one, Marcus Paige, had made an awkward 3 to tie the game literally the possession before this game winning shot by Kris Jenkins. This game was a true match up of heavyweights. UNC was playing catch up for most of the game, but punches and counter punches were being thrown almost every possession. This hurts a little less since we won it the next year against Gonzaga, but it kills me we could have been back to back champions. Nevertheless, this was the greatest game in Tournament history.
2. Basketball Royalty in the Making (1979)
I would have absolutely loved to have seen this match up. Of course, I wouldn't have a single clue of what was to come, but it would have been epic. This game is still the most viewed basketball game ever, college or professional. That is how hyped these two were at this period. Indiana State went into this game on a 33-game win streak. Only Magic could find a way to stop the non-stop scoring machine in Larry Bird. These two icons would go onto face each other in multiple NBA Finals, develop one of the best ever one-on-one rivalries, and help transform the NBA into what it is today.
1. Jimmy V Survives and Advances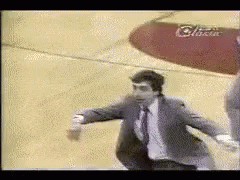 This game was another example of David vs Goliath. NC State came into this game as an underdog against the notorious Phi Slamma Jamma of the University of Houston which were led by future NBA champions and Hall of Famers, Hakeem "The Dream" Olajuwon and Clyde "The Glide" Drexler. No team in the country had a team as athletic and explosive as Houston. And the fact that this game was tied at 52 with seconds left of the 1983 Championship game is a mystery itself. NC State heaved up one last shot, or pass, that was caught in mid-air and and dunked at the final buzzer. The scene after that was electric. Coach Jim Valvano can be seen running around the court looking for anyone to celebrate with. The story of Jimmy V will forever live in basketball history as he died from cancer in 1994. The message he gave his team on the way to win his first championship was simple "survive and advance." Those words are echoed throughout every locker room of any sport today.