When the Los Angeles Rams made their move out of St. Louis, there was one thing that really bothered me about the reasoning Stan Kroenke gave about why they decided to make the move to California. Kroenke said that St. Louis isn't a market that can support three professional sports teams. Well, I'm calling you out Stan, you know nothing about St. Louis. I mean hell, in the 15 years that you owned the Rams, nobody, not even the mayor, knew who you were. But don't worry, we're doing very well these days. St. Louis as a sports town has only improved and shown you just how wrong you actually are. Since the Rams left, we've raised the expectations of the teams we were left with, and they've done nothing but crush them. The expectation to consistently win and be in the conversation of a championship is what makes every great sports city great. New York, Chicago and Boston. All of these cities' teams meet these expectations to win, and its time that people start putting St. Louis in that conversation. Stan Kroenke was quick to write off St. Louis as a great sports town, and I'm here to show just how loyal and charismatic us fans are about our sports teams. Within the last 10 years, St. Louis has had the honor of hosting a Winter Classic game in 2017,the NHL All Star Game in 2020, their first Stanley Cup games since 1970 and the first ever lifting of the Cup by a Blues captain (and yes I, like countless other fans, did shed tears that day). All of these events saw record crowds from not just hometown fans, but the Midwest as a whole. That is just the hockey team too, the Cardinals have also done their fair share to boost the reputation of St. Louis sports. Nobody will ever forget the 2011 World Series, which some have called the greatest baseball game ever played.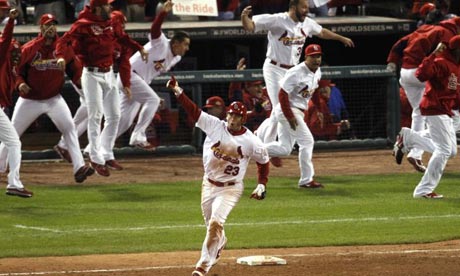 In the last 10 years, the Cardinals have made at least the NLCS five times and gone to the World Series twice. Busch Stadium has a max capacity of 44,494, and in the 2019 season, the Cardinals averaged a crowd of 42,968 per game. That's means 96.6% of Busch stadium was sold out per game, which is pretty damn impressive. Now to compare to city that Stan thinks is a much better market, Dodger Stadium in Los Angeles seats around 56,000 and their average crowd was 49,066. That's 87.6% of Dodger Stadium being sold out per game. This is also the year that the Dodgers had returning NL MVP Cody Bellinger, Justin Turner, Clayton Kershaw and Matt Kemp. This team was full of stars, and you can't beat out St. Louis in how many seats you sell out per game? The Blues have also seen a major upward trend since the Rams left St. Louis. Forbes puts St. Louis at #7 in their ranking of the best fans in hockey, which ranks fan bases based on TV ratings, stadium attendance based on capacity reaches, social media reach and merchandise sales. And you know what city didn't make the top 10? Los Angeles.
What Stan doesn't understand is fans in St. Louis do not accept mediocrity, which is what the Rams were for years under Kroenke's "leadership". In the 20 years the Rams were in St. Louis, they only made it over .500 four times, with one of those seasons ending with a Super Bowl win. I don't know if Stan thinks winning one Super Bowl in 15 years means that fans are supposed to mindlessly follow him or what, but that not how it works. St. Louisans can forgive poor seasons every now and then, we understand that it happens. But when you go 10 straight seasons at or under .500 without making the playoffs, then yeah, we're not going to support a team that refuses to show improvement and continues to embrace being a laughing stock of the league. "But Korn, the Blues went 50+ years without a Cup, why did St. Louis continue to support them throughout the years?". Well let me tell you why that is. Tom Stillman is one of the best owners in all of professional sports. He has made it a tradition to stand at the gates of every season's home opener and personally thank fans as they enter the game. You just don't see owners like that these days, and residents notice and appreciate that kind of showing by ownership. It shows that they care about the team, and want to see the organization be successful, and that was just something that Kroenke never showed us. It was very evident he was just in it for the money, was happy being a hands-off owner and letting the organization run (and fail) itself.
I mean Stan, come on buddy, St. Louis won here. We're suing your ass off (and probably going to win), we've proved we're a major sports town in the country, and you look like the bad guy who stole a football team from us out of pure greed. But if you're willing to Stan, change my mind.